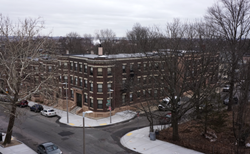 "Preservation of historically significant properties like Blue Mountain provide two-fold benefits," said Mecky Adnani, senior vice president NHPF. "We preserve the vibrant, historic fabric of this Roxbury neighborhood and ensure that rental housing here stays affordable through at least 2045."
NEW YORK (PRWEB) November 06, 2020
In keeping with its mission to preserve affordable housing, national not-for-profit The NHP Foundation ("NHPF") announced that it has purchased Blue Mountain Apartments in Boston, Mass., for $56.2 million. The organization will provide improvements to the apartments, including kitchen and bathroom renovations, system upgrades, energy efficient boilers, new ventilation systems, and exterior repairs and restoration.
MassHousing is providing the NHP Foundation with $52.2 million in construction to permanent financing for the acquisition and rehabilitation of the 19 historic buildings that comprise the housing community, as well as $12.5 million in permanent financing for land acquisition.
"The partnership between NHPF and MassHousing allows us to provide affordable units in an increasingly expensive neighborhood, close to the center of the City with good access to public transportation," said MassHousing Executive Director Chrystal Kornegay. "Preservation of affordable housing with amenities and access helps increase opportunities for families in the area to succeed and prosper."
The transaction also involved $35.5 million in federal Low-Income Housing and Historic Tax Credit equity, $4.5 million in state Historic Tax Credit equity, and $3 million in anticipated operating revenue. PNC Bank acted as the low-income housing and historic tax credit investor for the transaction.
"PNC has been involved with Blue Mountain Apartments for several years, after a preservation fund, sponsored by PNC, acquired the property to generate an economic return and prevent the property from converting to market-rate housing," said Todd Crow, executive vice president for PNC Real Estate. "Through our work with NHPF, we have been able to create an attractive investment for our investors and preserve long-term affordability for local residents, which is the ultimate goal of PNC's product capability and affordable housing platform."
Additional financing partners included BlueHub Capital (state historic tax credit bridge lender), Massachusetts Historical Commission (allocator of state historic credits), Massachusetts Department of Housing and Community Development (allocator of low income housing tax credits), and U.S. Department of Housing and Urban Development (rental assistance provider).
"Preservation of historically significant properties like Blue Mountain provide two-fold benefits," said Mecky Adnani, senior vice president NHPF. "We preserve the vibrant, historic fabric of this Roxbury neighborhood and ensure that rental housing here stays affordable through at least 2045."
The 217 units at the Blue Mountain Apartments are contained in 19 buildings on scattered sites around the Elm Hill Avenue neighborhood in Roxbury. The affordable housing community was originally built in the early 1900s and was last substantially rehabilitated in the 1980s. The buildings are included in the Massachusetts Historical Commission's Historic Places inventory.
Renovations began this month and are expected to be completed in 18 months.
About MassHousing
MassHousing (The Massachusetts Housing Finance Agency) is an independent, quasi-public agency created in 1966 and charged with providing financing for affordable housing in Massachusetts. The Agency raises capital by selling bonds and lends the proceeds to low- and moderate-income homebuyers and homeowners, and to developers who build or preserve affordable and/or mixed-income rental housing. MassHousing does not use taxpayer dollars to sustain its operations, although it administers some publicly funded programs on behalf of the Commonwealth. Since its inception, MassHousing has provided more than $24.3 billion for affordable housing. For more information, follow us on Twitter, Facebook and LinkedIn.      
About PNC Bank

PNC Bank, National Association, is a member of The PNC Financial Services Group, Inc. (NYSE: PNC). PNC is one of the largest diversified financial services institutions in the United States, organized around its customers and communities for strong relationships and local delivery of retail and business banking including a full range of lending products; specialized services for corporations and government entities, including corporate banking, real estate finance and asset-based lending; wealth management and asset management. For information about PNC, visit http://www.pnc.com.
About The NHP Foundation
Headquartered in New York City with offices in Washington, DC, and Chicago, IL, The NHP Foundation (NHPF) was launched on January 30, 1989, as a publicly supported 501(c)(3) not-for-profit real estate corporation. NHPF is dedicated to preserving and creating sustainable, service-enriched multifamily housing, and scattered-site communities that are both affordable to low and moderate income families and seniors, and beneficial to their communities. Through Family-Centered Coaching, NHPF's subsidiary Operation Pathways engages with, and assists, families experiencing poverty and other hardship, to problem-solve together. Through partnerships with major financial institutions, the public sector, faith-based initiatives, and other not-for-profit organizations, NHPF has 57 properties, including 9,664 units, in 15 states and the District of Columbia. For more information, please visit http://www.nhpfoundation.org.
###
Share article on social media or email:
Source: prweb.com