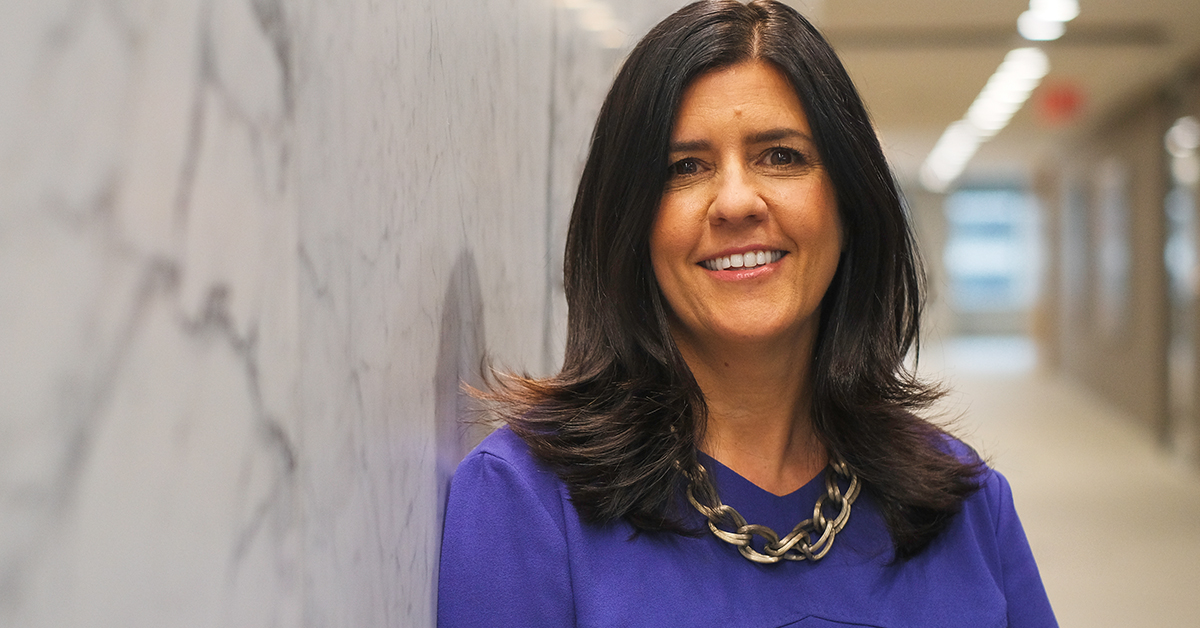 Joan Steinberg smiles from ear to ear when asked about her role at Morgan Stanley. "It's the best job in the company," says the Global Head of Philanthropy and President of the Morgan Stanley Foundation. What inspires her most is "the people we are helping. Meeting those individuals and families is very grounding. Seeing them overcome challenges drives me to do even more."
But this Managing Director also is just as inspired by her firm's generous employees. "Philanthropy and charity bring out the best in people," says Joan. "I get to see that every day and experience a corporate culture that's fully committed to giving back. Our employees are dedicated to creating transformative change in our communities and pour their time, skills and financial support into everything we do."
She points to the more than 2.4 million service hours employees have collectively logged through the firm's Global Volunteer Month program since 2006. She and her nearly all-women team also coordinate year-round employee volunteerism and all firm and employee giving, grant-making and scholarships. They spearhead Morgan Stanley's Annual Appeal (employee giving campaign) and coordinate the firm's Strategy Challenge, a pro-bono program in which employees are paired up with nonprofits to help solve key strategic questions.
Recently, under Joan's direction, the firm launched the Morgan Stanley Global Alliance for Children's Mental Health to fight stress, anxiety and depression in young people, a cause to which Morgan Stanley has donated over $20 million. The Alliance has benefitted over 11 million children, families and educators since February 2020.
A partner of Morgan Stanley's Institute for Inclusion, Joan recognized the need for employees to be able to take action in the ongoing racial justice movement. She and her team pulled together grants, employee contributions and matched funds for the NAACP Legal Defense and Education Fund. And over the next five years, in partnership with the Institute for Inclusion, the Morgan Stanley Foundation committed $20 million to help address systemic inequities in education and career outcomes for young adults from low-to-moderate income backgrounds with a focus on ethnically diverse students.
Quickly responding to the COVID-19 pandemic, she led (from home) the firm's $30 million commitment to fight hunger, support those on the frontlines and help low-income communities, which were hit harder by both the disease and economic loss. She manages the firm's responses to natural disasters and humanitarian crises in the many parts of the world where the firm operates.
For Joan, her most memorable work followed the 9/11 attacks, setting up a foundation to help victims' families and ultimately providing $21 million in services and support. At the time, Joan, who had worked in one of the towers in years prior, was mourning the loss of a friend but found comfort in helping grieving families.
The philanthropy chair of her college sorority, Joan earned both her bachelor's in Communications and her master's in Public Administration from Rutgers University in her home state of New Jersey. She began her career doing public relations for non-profits. After seven years with the American Cancer Society (ACS), where she worked her way up to Executive Director of a large chapter, she saw little room for further growth. She didn't expect to get the corporate contributions job she saw advertised in The New York Times. Now, 25 years later, Joan has never been happier. "I literally love coming to work every day," she beams. "I love my job and think I approach it with passion."
Helping families affected by cancer while at the ACS then serving as her brother's medical advocate during his own 13-year battle with brain tumors, Joan learned firsthand what it means to have someone in your corner. "No family has balance when someone is sick," says Joan. "If I can be their support, even get help from the firm, I'm 100 percent in."
Her father, who grew up in the Great Depression-era and served in World War II, taught her to always be there for others. "Every time he's called upon, he shows up and does the right thing," says Joan. "I definitely get that from him."
Besides empathy, what has served her well is a confidence to advocate for herself. "I'm not afraid to make decisions on the turn of a dime, without a lot of information, having faith in my gut," says Joan. "I'm okay making the call—and living with the consequences." Her mother, who was part of the women's liberation movement in the 1970s, "taught me early on to never take no for an answer and never let anyone define me." She worries about the confidence gap of women in the workplace and urges them to "step forward, raise your hand, and be proud of yourself."
It's easy to see why Joan has been named a Morgan Stanley MAKER, joining a group of trailblazing women of accomplishment nominated by their peers. Her passion for advocating for others comes through every day. Grateful to have found so much joy in her job, Joan advises career seekers to "really understand the multiple facets of who you are and find something that blends those things nicely," adding: "You have to love what you do."
Source: morganstanley.com