Texan by Nature, a conservation non-profit founded by former First Lady Laura Bush in 2011, unveiled the honorees of the 3rd annual Texan by Nature 20 at its summit in November.
"They are innovators, collaborators, and changemakers," Bush says.
Texan by Nature, which works to unite business and conservation leaders, says the TxN 20 recognizes the best and most innovative work in conservation from companies based and operating in Texas across 12 industries.
"They are innovators, collaborators, and changemakers."
LAURA BUSH
"Texas is fortunate to have global industry leaders who see the value in partnering with conservation initiatives while also developing innovative, sustainable methods and processes within their business," the organization said.
The TxN20 spotlights the honorees' commitment to conservation, their projects and programs, best practices, and lessons learned. But it's much more than a recognition program: It's a catalog of examples, best practices, and metrics—and an inspiration to industry peers.
In a state with 170 million acres of land and natural resources across 11 eco-regions, Texan by Nature says the innovation and partnership of those industry leaders will usher in the next generation of conservation.
I encourage other companies to follow their example," said Bush. "Together, we can secure a future where our economy, natural resources, and communities thrive."
2021 TxN 20 HONOREES
The TxN 20 awards honor companies whose ingenuity cultivates impactful programs and forges new and beneficial paths in conservation, said Cynthia Pickett-Stevenson, board chair of Texan by Nature, who announced the honorees at the summit.
Here are honorees, along with some of the projects and tangible results from these leaders in conservation and sustainability. Information unless otherwise noted is provided by Texan by Nature. Several companies are returning honorees.
Industry and Size: Agriculture – Mid-size
The Seguin,Texas-headquartered Alamo Group, operates 27 plants around the world to manufacture equipment for infrastructure maintenance, agriculture, and more. The manufacturer, founded in 1969, is using technology to manage invasive species and investing in biodiversity. Projects include the development of a mowing boat and raking method to fight invasive, non-native aquatic root plants in waterways; installing beehives around facilities; and planting trees on campuses to create a carbon sink. The company has also invested more than $1.1 million in energy conservation.
The company is accelerating its investments in conservation and sustainability, "not only because it's the right thing to do, but also because it's good for our employees, our families, our communities, and of course, it's good for our bottom line as well," according to CEO Jeff Leonard. Looking to the future, "we will redouble our efforts."
Industry and Size: Financial Services – Enterprise
Bank of America—the first bank globally to launch an Environmental Business Initiative in 2007—donated $2.6 million to support community greening efforts, which includes a grant to State Fair of Texas' Big Tex Urban Farms in Dallas as part of $850,000 in Texas grants. The financial institution also has 24,000 members in 32 countries engaged in environmental stewardship through the My Environment employee program.
The bank has committed more than $445 billion to its sustainability goals from 2007 through 2030, it says.
"By taking measurable action to reduce our environmental impacts and deploying significant financial and intellectual capital with clients and partners, we're simultaneously driving positive societal change and business returns," said Dallas President Jennifer Chandler.
Bank of America recently announced an $86 million renovation of its Plano campus, the bank's second-largest office location after its Charlotte, N.C., headquarters. Plans by Dallas architect Gensler call for lots of natural sunlight and wellness rooms among the amenities, according to Dallas Morning News reports. The plans will include biophilia, or elements of nature, in the design. The bank, which previously installed wind turbines on the campus, will add a large solar array on the Plano campus to help meet a sustainability goal to be carbon zero by 2050. Completion is expected to be January 2023.
Industry and Size: Transportation – Enterprise
Fort Worth-based BNSF Railway keeps freight moving. BNSF, which runs 32,500 route miles of track in 28 states and also operates in Canada and over 40 ports, says rail is the most sustainable way to move goods long distances over land. Moving freight by rail instead of truck lowers greenhouse gas emissions up to 75 percent, BNSF says.
In 2020, the company enabled its customers to reduce their total carbon emissions by 24.7 million metric tons. BNSF also recycled 2.9 million rail ties, 1.9 million pounds of batteries, and 4.3 million gallons of lube oil last year. One unique use for BNSF concrete ties is underwater. They're used as stepping stones in the largest artificial reef in the Gulf of Mexico. Some 60,000 ties built 1 square mile of the 1,650-acre reef that a quarter-million fish—mostly red snappers—call home. The rail company also donated $2.4 million to organizations in Texas communities last year. Over the last decade, NSF has remediated about 150 sites, spending $345 million towards the efforts.
BNSF, which has a base of operations at Fort Worth's AllianceTexas, says transportation efficiency can minimize environmental impact and lower the collective carbon footprint. "We regularly work with our customers to identify and offer new and better transportation solutions to make their supply chains more effective," President and CEO Katie Farmer said. Other initiatives include piloting battery storage and electric power/motor technology efficiencies at BNSF hubs and in the locomotive fleet.
Industry and Size: Construction and Manufacturing – Enterprise
Houston-based Cemex, a global construction materials company that's a three-time honoree, offers cement, aggregates, ready-mix concrete, and urbanization solutions. Through innovation and R&D efforts, the company is pioneering ways to use waste and residues as alternative raw materials and fuels. The company is committed to the "circular economy" and the creation of lasting value.
Cemex conservation efforts include 346,000+ acres of habitat that supports 256 species of birds, 11 black bears, and more.
The El Carmen Nature Reserve, located on the U.S.-Mexico border, stores some 11 million tons of biologically sequestered CO2—"the equivalent to 30% of our annual worldwide CO2 emissions." The company partnered with landowner Josiah Austin to actively conserve and manage the ecological corridor to restore wildlife while retaining the natural desert landscape near Big Bend National Park.
In addition, Cemex operations in New Braunfels, Texas, are home to the Balcones Dry Comal Creek Wildlife Habitat Center that has more than 10 acres of restored prairie and pollinator gardens, as well as a vegetable garden and educational building for hands-on learning. It also developed and implemented a water recycling plant at its Balcones Quarry that reduces the use of local water sources by 90 percent.
Cemex's Jerae Carlson says the company has "implemented programs here in Texas and across the world that aim at preserving biodiversity and ecosystems while demonstrating how the industry can coexist with nature."
Industry: Municipal Services
San Antonio's Office of Sustainability, which was also recognized in 2020, is focused on the implementation of the city's climate action and adaptation plan called SA Climate Ready. The program ranges from increasing infrastructure resilience, strengthening public health systems, enhancing emergency management and community preparedness, promotion and protection of green infrastructure and ecosystems, protecting local food security, ensuring equity in adaptation, and increasing resiliency awareness. Of the city's 13,000 SA employees, some 8,000 have attended climate action training. And Mayor's Youth Engagement Council for Climate Initiatives (MYECCI) was created to empower next-gen climate champions in the city.
We're proud to be called leaders in this space, says San Antonio Mayor Ron Nirenberg. "Conservation of our natural resources is integral to San Antonio's resiliency," he said. "Balancing urban development with protection of our land, water, and wildlife is a challenge, but we, along with our many partners, are committed to making this a priority for the wellbeing of our community."
Industry and Size: Technology – Enterprise
Dell, also recognized in 2020 and 2019, created the Progress Made Real plan that lays out goals for 2030 and beyond that addresses accelerating the circular economy– one where waste is designed out of the system—and other critical areas. The company, born in Michael Dell's University of Texas dorm room in 1984, says the tech industry accounts for about 2% of all global emissions. Dell recognizes it "must take responsibility" for its own footprint but "that technology has a special role to play in addressing 'the other 98%' of global emissions." The company believes areas where tech can "have the biggest impact include the energy sector, transportation, manufacturing, agriculture, and in buildings." For example, climate control systems can manage power while machine learning optimizes usage to reduce energy.
When looking for solutions, the company looks at whole systems: It's "important for us to not trade one problem for another." Replacing petroleum-based plastics with bioplastics is one area of innovation for the company. Dell worked with suppliers to create a recyclable polycarbonate.
"We feel a deep responsibility to innovate for our customers and the planet, using all the levers at our disposal to make technology work for the world we need," says Head of Sustainability Page Motes.
Industry and Size: Food, Beverage, & Grocery – Small
Desert Door, founded in 2017 by three former military service members who met at the UT McCombs School of Business, is the only commercial producer of sotol. Sotol is a liquor made from a shrub commonly called "desert spoon" that grows wild in West Texas (as opposed to tequila and mezcal, which are crafted from agave species, sometimes in short supply).
Ryan Campbell, who started the company with fellow Texans Judson Kauffman and Brent Looby, said, "All of our plants are wild-harvested, and so for us, what's so important is the sustainability of the plant. Whether that is through our harvesting techniques or through helping to support conservation efforts and education so that the plant continues to be around as a long-term source in the future for us."
It's essential to make sure the land is preserved and restored to ensure it continues to thrive in the wild, the company says. Desert Door employees participate in conservation projects, such as supporting a prescribed burn and juniper removal on ranches in Texas. It also returns profits to fund conservation efforts. This year, limited releases of its sotol spirit specific to two conservation projects allowed the company to return $35,00 in profits to the efforts. New projects will be funded each year, going forward, the startup says.
Industry and Size: Transportation – Mid-size
Also honored in 2020 and 2019, Dallas Fort Worth International Airport is one of the most frequently visited "super hub" airports in the world. The airport's new strategic plan is future-focused and embraces innovation. The airport, which committed to achieving Net Zero Carbon emissions by 2030—20 years ahead of the IPCC target of 2050—is currently certified as carbon neutral, it says.
Examples of impact include a reclaimed water delivery system that's reduced potable water use by more than 100 million gallons each year since 2010 and adaptive LED lighting that's saved 4.4 million kWh per year. DFW's 17,000+ acres are also 23% covered by tree canopy. A new Tree Conservation Plan establishes a goal of "zero net loss" for future development at the airport.
Last year, DFW had a 99% diversion of waste from landfills for all construction projects, which resulted in $25M in savings. As of July this year, 1.1 million tons of construction waste was diverted from landfills. Since March, 6,500+ pounds of food waste was diverted from seven terminal restaurants
And 100% of the waste cooking oil from more than 50 restaurants in terminals—some 627,000 pounds— is recycled and used as a feedstock to generate renewable fuels.
"DFW Airport has been a leader in integrating sustainable practices into daily operations for decades and continues to see the positive impact this practice has on our community and our business," CEO Sean Donohue said. "Our team is dedicated to continuing to find new ways of protecting DFW's natural resources and ensuring the Airport is well-positioned for future success."
DFW Airport is updating its 2014 Airport Sustainability Management Plan (SMP) in alignment with its strategic plan. The "new plan will ensure the integration of sustainability strategies with other business priorities and is expected to result in further cost savings and improved passenger and employee experiences," the airport says.
Industry and Size: Food, Beverage, & Grocery – Mid-size
Farmer Brothers moved its headquarters to North Texas in 2017 from California where it had operated for more than 100 years. The coffee roaster, wholesaler, and distributor of coffee, tea, and culinary products was founded in 1912. The coffee company, also honored in 2020 and 2019, builds sustainable practices into the fabric of the organization. The company calls its approach SEED: social, environmental, and economic development.
"Coffee crops can be sensitive to changing temperatures," says Farmer Brothers. It's partnered with organizations such as the World Coffee Research (WCR) team to help contribute to strengthening the future of coffee crops. It also aims to protect the land and ecosystems where the company does business, both nationally and internationally.
Last year, Farmer Brothers diverted 6.6 million pounds of waste from the landfill and shipped products across 260,487 miles using rail, which diverted an estimated 317.29 metric tons of CO2 emissions.
"We have a great team of high-quality people, who do high-quality work to produce high-quality products while protecting the planet, and that is what makes us sustainable," says CEO Deverl Maserang.
Industry and Size: Food, Beverage, and Grocery–Enterprise
Recognized for the third year, San Antonio-based H-E-B is committed to the principles of "reduce, reuse and recycle" in day-to-day operations. For more than 115, the company has been guided by "a responsibility to take care of the communities where we live and work."
H-E-B, which started with one store in Kerrville in 1905, is the only Texas-based company that serves as a charter partner in the Environmental Protection Agency (EPA) SmartWay Transport Partnership, the company says. The company cites the reduction of 830,000 gallons of diesel fuel and 8,450 tons of CO2 reduced each year.
The company also continues to invest in renewable energy to power its operations. Green building is strategies are being incorporated in new stores, and many have been LEED-certified. This year, HEB will complete the installation of its largest rooftop solar system to date (with nearly 11,000 solar panels) at the Super Regional Retail Support Center in San Antonio.
Industry and Size: Engineering and Architectural Consulting & Design – Enterprise
HDR believes collaboration is the best way forward and that ideas inspire positive change. The firm, which employs 10,000 employees around the world, has Texas offices located in Dallas, Fort Worth, Austin, Round Rock, San Antonio, Houston, and Corpus Christi. Strategic areas include client focus, creativity and innovation, and community building, HDR says. Its Office of Sustainability and Resiliency helps coordinate efforts to integrate sustainability and resiliency into client projects—as well as internal business practices and initiatives.
With a team of more than 1,000 environmental professionals—environmental scientists and planners, permitting experts, archaeologists, historians, biologists, climatologists, ecological restoration specialists, wetland and stream ecologists, fisheries scientists, toxicologists, and marine species experts and scientists— the company delivers built environments that value the economic, social, and natural environments.
It also balances community and economic needs with conservation and sustainability of natural resources, the company says. HDR's economic tools account for a project's triple bottom line (TBL), which includes its full range of environmental, social, and economic impacts. This provides a holistic perspective of a project's sustainability benefits.
The company also has a process for Sustainable Value Analysis to make a business case for making sustainable project choices. It works to identify initiatives that will accomplish project goals, optimize the total project value, and position the project for approval or funding.
Industry and Size: Agriculture – Enterprise
Founded in 1947, Sanderson Farms is the third-largest poultry producer in the U.S. A Fortune 1000 company headquartered in Mississippi, the company produces, processes, markets, and distributes chicken and other food items with 17,000 employees in five states and 17 cities.
Sanderson Farms was also recognized in 2019 and 2020. "We believe that continuing to prioritize sustainable business practices in our operations is critical to our success over the next 74 years and beyond," the company says.
Impact examples include working to identify and implement packaging materials that are over 77% recyclable or reusable, which is equivalent to eliminating the weight of 57,702 households worth of trash. And the company also diverted 96% of the generated waste in 2019 by rendering animal by-products, such as eggshells and feathers, for other product uses.
In 2020, the company says it had a $2,418,000 financial return on investment for its conservation and sustainability efforts. Those included $1,418,000 in biogas savings by offsetting the cost of purchasing natural gas at the company's processing facilities.
Industry and Size: Energy – Enterprise
The Houston-based international energy company with expertise in the exploration, production, refining, and marketing of oil and natural gas, and the manufacturing and marketing of chemicals. Shell's purpose is to "power progress together with more and cleaner energy solutions," it says. The company invests in power, including from low-carbon sources such as wind and solar, as well as new fuels for transport, such as advanced biofuels and hydrogen.
In 2020, Shell invested $780 million in biofuels, $76 million in renewable power, and $157 million in emissions trading. In addition, the energy company invested $70 million in carbon capture and storage (CCS). Shell says it's involved in "7 of the 51 large-scale CCS projects globally."
"Shell US is destined to play a central role in navigating the energy transition while meeting global energy demand, and we are excited about tackling these challenges through innovation and collaboration. This pathway requires fundamental adjustments to the US energy system at a pace of change that will be difficult," the company says.
The company also spent $204 million globally on social investment and invested around $90 million in nature-based solutions projects that reduce or avoid emissions and can also benefit ecosystems by improving biodiversity, water quality, and flood protection.
Industry and Size: Food, Beverage, and Grocery – Enterprise
Sysco is a global giant in selling and distributing food projects to restaurants and other establishments with more than 17 facilities and 5,800 employees in Texas. Also recognized in 2020, the company reevaluated its 2018 CSR goals based on the progress made since setting them. Per the company, 2025 goals include:
Established responsible sourcing guidelines for four key commodities: beef, soy, paper and coffee with commitments already in place for palm oil and seafood.
Diverting 90% of operations and food waste from landfills
Expanding the Sysco Sustainable Agriculture program to include five fresh crops
100% compliance to Sysco's Animal Welfare Policy
20% of fleet vehicles to be powered by alternative fuels
Sourcing 20% of electricity from alternative sources
"As the global leader in foodservice distribution, we have the opportunity and responsibility to set the standard and pave the way for the industry to make a real difference in building a sustainable future," says SVP and Corporate Affairs and Chief Communications Officer Neil Russell. "Sysco continues to innovate and evolve to find new solutions to preserve and protect the environment for future generations. I am proud of the progress we have made and look forward to continuing to share our efforts in conservation and sustainability."
Impact areas include Sysco's Sustainable Agriculture program that has 125 processing plants and some 11,000+ growers that covers more than 1.3 million acres. And in 2020, 69% of food and operations waste was diverted from landfills and 39 million meals were donated.
Industry and Size: Healthcare – Enterprise
Arlington-based Texas Health Resources, also recognized as a 2020 and 2019 TxN 20 honoree, is one of the largest faith-based nonprofit health systems in the U.S. It's the largest in North Texas in terms of patients served. Its team of 24,000 employees across 27 hospitals contributes some 11,000-plus hours each year working at more than 400 local non-profits. A number of those projects focus on conservation and sustainability, including food banks, farmers' markets, community gardens, tree planting, and park revitalization efforts.
THR's "produce recovery pilot" diverts produce that is culled by grocery stores to be donated for consumption or to urban farms and school gardens for composting. "To date, the participating farms have picked up approximately 500-1,000 pounds of food each week from each store," according to THR.
Texas Health's water conservation—including the use of low-flow toilets, waterless urinals, water-efficient irrigation systems, and participation in the North Texas Healthcare Laundry Cooperative, which allows linens to be washed using 50% less water, chemicals, and energy than traditional laundry services— has resulted in 80.55 million gallons of water conserved during the last five years—enough to fill 131.6 Olympic-sized pools, it says.
"As one of the region's largest employers, Texas Health is responsible for caring for 7 million people living in 16 counties," says CEO Barclay Berdan. "As a nonprofit, we must carefully steward the resources in which we are entrusted so that we can fulfill our mission. We do this by intentionally looking for ways to operate efficiently, forging strategic affiliations to leverage our shared resources, and designing programs that close care, cost, and consumption gaps."
Industry and Size: Technology – Mid-size
The Dallas-based global semiconductor company says "each generation of innovation builds upon the last to make technology smaller, more efficient, more reliable, and more affordable – making it possible for semiconductors to go into electronics everywhere."
"As our world becomes increasingly more intelligent, efficient, and connected, semiconductors will continue to play a key role in supporting conservation and sustainability efforts by developing technology that is smaller, more efficient, more reliable, and more affordable," the company says.
Semiconductors can reduce energy consumption "by making electric motors smarter, electrifying vehicles for a cleaner environment, and preserving natural resources by sensing water and gas leaks." In addition, they can support energy efficiency in smart cities and automated factories and help reduce energy consumption in homes "by up to 40% through smart thermostats."
Texas Instruments says it keeps "a disciplined focus on performance goals and continuous improvement in greenhouse gas emissions, energy consumption, water consumption, waste and material management, and air emissions."
TI has conserved 1.4 billion gallons of water over the past five years. Last year, 72 projects resulted in more than 206 million gallons of water saved.
In addition, 89.9% of waste was diverted—more than 42,000 metric tons—from landfills through reuse and recycling.
Industry and Size: Architecture, Design, & Development – Mid-sized
Dallas-based Beck Group is a third-generation, family-owned company that got its start in 1912 as a general contractor. Today it's a full-service design/builder with an international reach that's "put in place" more than $8 billion worth of built space in education, healthcare, religious, corporate office, mixed-use, and government developments.
Conservation and sustainability is part of Beck's business strategy: Its Sustainability Team provides education, advocacy, research, and consulting services for the project teams and clients. "We cannot overlook the disparities many people face; sustainable design cannot be elitist or a sign of luxury," the company says.
According to Beck, buildings and construction account for almost 40% of total greenhouse gas (GHG) emissions worldwide. As a design-build firm, Beck wants to make a difference in reducing this burden.
In 2010, Beck signed the AIA 2030 Commitment to design carbon-neutral buildings by the year 2030. "What was a long-term goal 20 years in the future is now escalating to an immediate need for improvements over the next nine years," the company says.
"While the [TxN 20 recognition] celebrates our achievements, which began over a decade ago, it reminds us why we strive to do better with every new project," Director of Sustainability Natalie Terrill said.
Industry and Size: Energy – Mid-size
Irving-based Vistra, a retail electricity and power generation company with "Texas roots stretching back nearly 140 years." The company, which serves 4.3 million residential, commercial, and industrial retail customers with electricity and natural gas, was also recognized in 2020 as a TxN 20. The largest competitive power generator in the U.S., its diverse portfolio includes natural gas, nuclear, solar, and battery energy storage facilities.
As Vistra's portfolio continues to transition away from carbon-heavy generating resources, the company expects to invest $500 million of equity, on average, per year on renewable generating assets, which includes solar and battery energy storage, and retail businesses. "As a leader in the power sector, we are committed to addressing climate change by transforming our fleet to low-to-no carbon resources and advocating for economy-wide carbon solutions," the company says.
"At Vistra, our Texas roots run deep, and every day we are continuously working to protect the land that makes this state unlike any other," Chief Purpose and Sustainability Officer Molly Sorg. "From innovations in water conservation to industry-leading land reclamation efforts, we are a company that is deeply committed to being part of the solution, creating a better future for all Texans."
By December 2020, Vistra achieved a 45% reduction in CO2 equivalent emissions compared to its 2010 baseline, the company said. That's "approximately 76% of its 2030 target." Vistra also reduced the amount of water needed to produce electricity over the last 10 years: A 42% water withdrawal.
Other impacts include 86,000+ acres reclaimed, 42M+ native trees planted, and 7,000+ acres of wetlands, ponds, and stream channels created or enhanced on their restored lands, which dramatically increases water resources for wildlife and livestock.
Industry and Size: Retail – Enterprise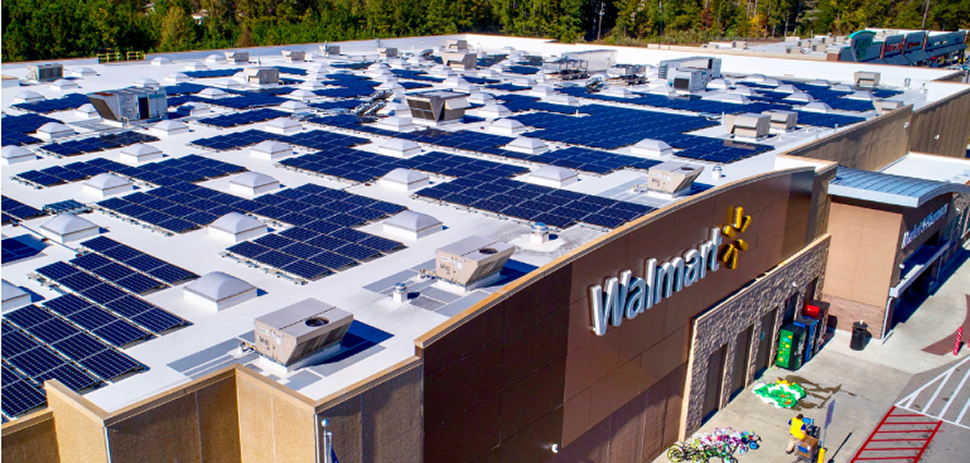 The global retail giant welcomes about 220 million customers and members every week to its approximately 10,500 stores and clubs under 48 banners in 24 countries, as well as eCommerce websites.
The company, which has short- and long-term goals for conservation and sustainability, has a planned path to zero emissions by 2040 ahead of the Paris Agreement ambition for Net Zero in 2050. "We were the first U.S. retailer to make a zero-emissions commitment that does not rely on carbon offsets," according to a Q&A with Texan by Nature. The retailer plains to work with suppliers to avoid 1 gigaton of greenhouse gas emissions.
The company also plans to reach 100% renewable energy by 2035. 36% of its global electric needs were supplied by renewable sources in 2020.
"For a business to last, it must have a fundamental reason for being–which is found in the value it creates not only for shareholders but for the world," the company said in a Q&A with Texan by Nature. "That's why we have committed to becoming a regenerative company dedicated to placing nature and humanity at the center of our business practices."
For 15 years, Walmart has been collaborating to drive impact across global supply chains, it said.
The company's programs to double fleet efficiency have saved more than $1 billion. And over the course of 10 years, the use of 1.5 million LED lights across facilities has saved more than $100 million.
In Texas, which is home to more than 3,500 "crucial suppliers," its purchases of Texas suppliers' products was more than $76 billion in the last fiscal year. Plus, Walmart donated $129 million in in-kind food and goods, as well as grants for state nonprofit organizations.
Food waster and land/sea conservation is also a focus: Globally, more than 950 million pounds of food waste was diverted from the waste stream through composting, animal feed, anaerobic digestion, and biochemical processing. Since 2005, Walmart has conserved over 1.6 million acres through a Walmart program administered by the National Fish and Wildlife Foundation. But last year, the company and its foundation committed to help "protect, manage or restore at least 50 million acres of land and 1 million square miles of ocean by 2030."
Industry and Size: Municipal Services – Enterprise
North America's largest environmental services provider, Houston-based Waste Management runs the largest network of landfills in the industry and manages the disposal of nearly 100 million tons of waste every year. That requires a forward-thinking approach to mitigate potential impacts from the landfills and help ensure communities will be safe and secure over the long haul.
"We recognize that the end-of-life for materials is the start of something new. So, we work to manage waste responsibly and collaborate with stakeholders to find ways to create new value – together," WM said in a TxN Q&A.
The company calls its sustainability efforts the backbone of its business.
The company has some 50,000 employees—3,460 in Texas—and says everyone's role plays into the bigger picture: A sustainable company that aims to be a leader in its space
WM sustainability service offerings—recycling, renewable energy, and organics—are responsible for about 10% of the $17B annual revenue. It's also helped industrial customers save million through waste reduction, strategic materials sourcing, optimized logistics, and more.
In three facilities in Texas, WM creates renewable natural gas by converting landfill gas into pipeline quality gas, producing a combined average of 9490 MMBTu daily. It also collectively generate 60 megawatts of power by leasing eight closed landfills for solar energy development.
Leading by example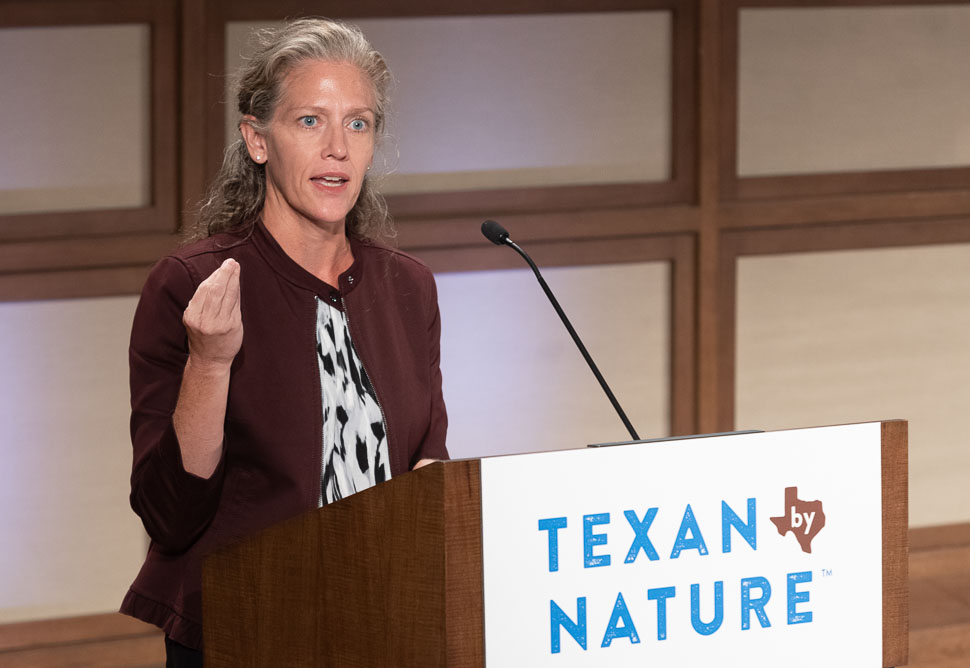 Texas by Nature CEO Joni Carswell calls Texas "a unique confluence of industry and nature."
Recognizing that leadership and building on best practices will expedite progress and rapid innovation, Carswell said.
The CEO points to the thinking and action from TxN 20 companies like H-E-B, CEMEX, Alamo Group, Farmer Brothers, and others. "While no organization is without opportunity to improve, the efforts and progress coming from industry are substantial," she said in a recent blog post.
Those leadership and collaborative on-the-ground efforts for lasting impact are present in every industry, but are not widely shared. That's why Texan by Nature wants to not only celebrate, but share their innovation and best practices.
Through its TxN 20 evaluation and selection process, Texas by Nature has seen a few topics of greatest interest emerge:
Desire for clearly reported metrics showcasing continual improvement on aspirational

goals

,
Understanding and articulation of global impact,
Utilization of local conservation partnerships and projects for ESG impact, and
Innovation in

water

conservation.
Carswell notes a growing focus on ESG from industry. The CEO says we have "a moment in time where we can build a new model for conservation and truly change the trajectory."
We can build on each other's expertise and best practices, she says. Carswell wants to evolve a model of ESG that "incorporates real innovation as well as local conservation action."
Above all, we're in it together: "Industry needs conservation to achieve broad ESG goals and conservation needs industry to realize and accelerate transformative impact," Carswell said. "It's no longer us vs. them. It's a collaborative effort which benefits all."
It's vital that industry play a role through research funding, employee education and engagement, internal process improvement, and new product innovation, Carswell says. "No company is too small to take on the challenge."
Selecting the TxN 20
To select the 2021 Texan by Nature 20, data submissions were evaluated and independent research done across more than 2000 of Texas's publicly traded and private companies in 12 industry sectors. For the next step, the list had to be narrowed to the top 60 companies in Texas.
"That was a hard job to do," TxN Board Chair Pickett-Stevenson said.
A selection committee of top industry leaders was formed to evaluate and select the final honorees.
All companies were evaluated on key criteria with a 17-point scoring system, the organization says. The scoring criteria includes commitments to conservation; reported metrics related to conservation; measured investment in conservation; reported return on conservation; positive conservation impact on land; water, wildlife, and people waste energy; activities such as infrastructure production and supply chain; employee engagement; and more.
The 2021 selection committee, per TXN
Rick Archer, founder and CEO, Overland Partners Architecture and Urban Design
Andrejs E. Avots-Avotins MD PhD, The Elizabeth & Drayton McLane, Jr. chair in health & wellness VP of medical affairs, Baylor Scott & White Health Temple
Tracee Bentley, president and CEO, Permian Strategic Partnership
Garrett Boone, cofounder, The Container Store, Board; Trinity Park Conservancy
Stoney Burke, public policy, Amazon Web Service; TxN Advisory Council
Joanne Caldwell, director, environmental data analytics; Phillips 66
Joe Crafton Jr., principal, Wingshooter Investments LLC; TxN Board
Wayne Craig, executive director, Cactus Cares
Edward Craner, SVP, HOLT CAT
Matthew Crommett, director, LH Capital Inc; Lyda Hill Philanthropies
Michael Dorff, communications and public affairs, Raytheon; TxN Advisory CouncilChad Ellis, CEO, Texas Agricultural Land Trust
Savannah Friedkin, president, Friedkin Foundation
Smith Getterman, director of sustainability and special project, Baylor University
Robert Horton, VP, environmental affairs & sustainability, Dallas-Fort Worth International Airport; TxN Board
Devin Hotzel, government relations, Enbridge
Nathan Loftice, director, planning permitting sustainability; BNSF Railway
Tyler Lowe, director, governmental affairs, Vulcan Materials Company
Bob Malone, chairman, president and CEO, Sonora Bank
Adair Margo, author and founder, Tom Lea Institute; TxN Board
Richard McDonald, corporate director environmental affairs & sustainability, H-E-B
Julia Murphy, deputy chief sustainability officer, City of San Antonio Office of Sustainability
Angie Rosales, business development, Sundt; TxN Advisory Council
Meghna Tare, chief sustainability officer, University of Texas Arlington
Darrel Ward Sr., VP, Dell Technologies; APEX
Neal Wilkins, president and CEO, East Foundation; TxN Board
2022 TxN 20
Submit your data now for the 2022 TxN 20, a list of top businesses operating in Texas that are moving conservation innovation forward for the benefit of people, prosperity, and natural resources.
2022 submissions are now open and will close on June 3, 2022.
Read next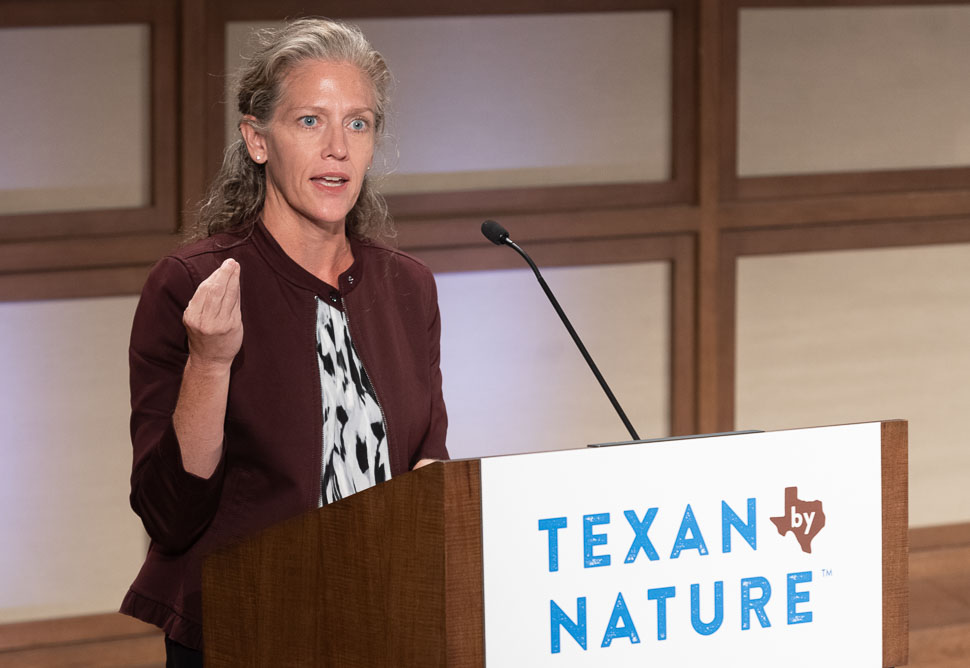 The nonprofit is uniting industry and conservation as we move faster and faster towards progress.

Get on the list.
Dallas Innovates, every day.
Sign up to keep your eye on what's new and next in Dallas-Fort Worth, every day.
Source: dallasinnovates.com