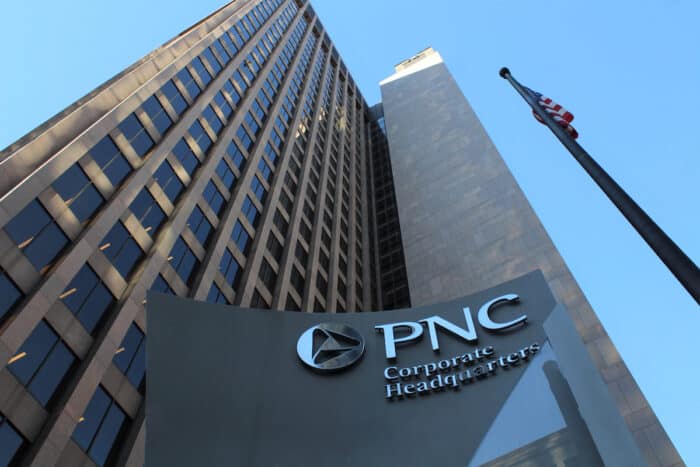 PNC Website Blind Visually Impaired ADA Class Action Overview:
Who:

A legally blind woman is suing PNC.

Why:

She says the PNC website is not accessible with a screen reader, depriving blind people from using its services online.

Where:

The case is pending in New York federal court.
---
PNC's website is not accessible to blind people using a screen reader, denying them the ability to use the bank's services, a new class action lawsuit alleges.
Plaintiff Alexandra Hobbs filed the class action complaint against The PNC Financial Services Group, INC. May 4 in a New York federal court alleging violations of the Americans With Disabilities Act (ADA).
Hobbs is a visually impaired and legally blind person and requires screen-reading software to read website content using her computer.
She says PNC has failed to design and operate its website www.pnc.com/en/personal-banking.html in a way that is fully accessible to those using screen readers.
PNC Must Change Its Website, Class Action Says
Hobbs seeks a permanent injunction to cause a change in PNC's corporate policies, practices and procedures so its website will become and remain accessible to blind and visually impaired consumers.
She says the website is lacking alt-text that screen readers use and is full of empty links.
Hobbs looks to represent all legally blind people in the United States who tried to access the PNC website and were unable to use it with their screen readers. Hobbs is seeking certification of the class, an injunction, damages, interest, fees, costs and a jury trial.
The news comes after PNC Merchant Services recently agreed to pay $10 million to resolve claims it charged its customers unfair fees.
What do you think of the allegations in this case? Let us know in the comments!
---
---
Read About More Class Action Lawsuits & Class Action Settlements:
Please note: Top Class Actions is not a settlement administrator or law firm. Top Class Actions is a legal news source that reports on class action lawsuits, class action settlements, drug injury lawsuits and product liability lawsuits. Top Class Actions does not process claims and we cannot advise you on the status of any class action settlement claim. You must contact the settlement administrator or your attorney for any updates regarding your claim status, claim form or questions about when payments are expected to be mailed out.
[class^="wpforms-"] [class^="wpforms-"]
[class^="wpforms-"] [class^="wpforms-"]
[gravityform id="805″ title="false" description="false" ajax="true" field_values="l=US"]
<div class='gf_browser_unknown gform_wrapper gform_legacy_markup_wrapper' id='gform_wrapper_805′ ><div id='gf_805′ class='gform_anchor' tabindex='-1′></div><form method='post' enctype='multipart/form-data' target='gform_ajax_frame_805′ id='gform_805′ action='/disability-class-action-lawsuit/pnc-class-action-alleges-website-not-accessible-to-blind-visually-impaired/#gf_805′ novalidate> <div class='gform_body gform-body'><ul id='gform_fields_805′ class='gform_fields top_label form_sublabel_below description_below'><li id="field_805_2″ class="gfield gfield_html gfield_html_formatted gfield_no_follows_desc field_sublabel_below field_description_below gfield_visibility_visible" data-js-reload="field_805_2″><p style="color: #fff; font-family: Lato; font-size: 30px; font-weight:700; letter-spacing:0; line-height:1; margin: 10px 0 0 0; overflow-wrap:break-word; padding: 5px; text-align: center; text-decoration:none; text-transform:none;"> WHAT CAN YOU CLAIM
</p> <p style="color: #fff; font-family: Lato; font-size: 24px; font-weight:700; letter-spacing:0; line-height:1; margin: 0; overflow-wrap:break-word; padding: 5px; text-align: center; text-decoration:none; text-transform:none;"> We tell you about cash you can claim every week!
</p> <p style="color: #fff; font-family: Lato; font-size: 22px; font-weight:700; letter-spacing:0; line-height:1; margin: 0; overflow-wrap:break-word; padding: 5px 10% 60px 10%; text-align: center; text-decoration:none; text-transform:none;"> Sign up for our free newsletter.
</p></li><li id="field_805_1″ class="gfield gfield_contains_required field_sublabel_below field_description_below hidden_label gfield_visibility_visible" data-js-reload="field_805_1″><label class='gfield_label' for='input_805_1′ >Email<span class="gfield_required"><span class="gfield_required gfield_required_asterisk">*</span></span></label><div class='ginput_container ginput_container_email'> <input name='input_1′ id='input_805_1′ type='email' value=" class='large' placeholder='Enter your email address here' aria-required="true" aria-invalid="false" /> </div></li><li id="field_805_4″ class="gfield gfield–width-full field_sublabel_below field_description_below hidden_label gfield_visibility_visible" data-js-reload="field_805_4″><label class='gfield_label' for='input_805_4′ >CAPTCHA</label><div id='input_805_4′ class='ginput_container ginput_recaptcha' data-sitekey='6LcNnw0UAAAAAEHLk_VxmSyaG0pGwV9bgg3IYpVj' data-theme='light' data-tabindex='0′ data-badge="></div></li><li id="field_805_3″ class="gfield gform_hidden field_sublabel_below field_description_below gfield_visibility_visible" data-js-reload="field_805_3″><div class='ginput_container ginput_container_text'><input name='input_3′ id='input_805_3′ type='hidden' class='gform_hidden' aria-invalid="false" value='US' /></div></li><li id="field_805_5″ class="gfield gform_validation_container field_sublabel_below field_description_below gfield_visibility_visible" data-js-reload="field_805_5″><label class='gfield_label' for='input_805_5′ >Name</label><div class='ginput_container'><input name='input_5′ id='input_805_5′ type='text' value=" autocomplete='new-password'/></div><div class='gfield_description' id='gfield_description_805_5′>This field is for validation purposes and should be left unchanged.</div></li></ul></div> <div class='gform_footer top_label'> <input type='submit' id='gform_submit_button_805′ class='gform_button button' value='Subscribe' onclick='if(window["gf_submitting_805"]){return false;} if( !jQuery("#gform_805")[0].checkValidity || jQuery("#gform_805")[0].checkValidity()){window["gf_submitting_805"]=true;} ' onkeypress='if( event.keyCode == 13 ){ if(window["gf_submitting_805"]){return false;} if( !jQuery("#gform_805")[0].checkValidity || jQuery("#gform_805")[0].checkValidity()){window["gf_submitting_805"]=true;} jQuery("#gform_805").trigger("submit",[true]); }' /> <input type='hidden' name='gform_ajax' value='form_id=805&amp;title=&amp;description=&amp;tabindex=0′ /> <input type='hidden' class='gform_hidden' name='is_submit_805′ value='1′ /> <input type='hidden' class='gform_hidden' name='gform_submit' value='805′ /> <input type='hidden' class='gform_hidden' name='gform_unique_id' value=" /> <input type='hidden' class='gform_hidden' name='state_805′ value='WyJbXSIsIjJhMGZiY2VkODU0NTZmNTM3YWY2ODg1ZDc5M2U5YjRiIl0=' /> <input type='hidden' class='gform_hidden' name='gform_target_page_number_805′ id='gform_target_page_number_805′ value='0′ /> <input type='hidden' class='gform_hidden' name='gform_source_page_number_805′ id='gform_source_page_number_805′ value='1′ /> <input type='hidden' name='gform_field_values' value='l=US' /> </div> <p style="display: none !important;"><label>&#916;<textarea name="ak_hp_textarea" cols="45″ rows="8″ maxlength="100″></textarea></label><input type="hidden" id="ak_js_5″ name="ak_js" value="175″/><script>document.getElementById( "ak_js_5" ).setAttribute( "value", ( new Date() ).getTime() );</script></p></form> </div> <iframe style='display:none;width:0px;height:0px;' src='about:blank' name='gform_ajax_frame_805′ id='gform_ajax_frame_805′ title='This iframe contains the logic required to handle Ajax powered Gravity Forms.'></iframe> <script type="text/javascript">
gform.initializeOnLoaded( function() {gformInitSpinner( 805, 'https://s40123.pcdn.co/wp-content/plugins/gravityforms/images/spinner.svg' );jQuery('#gform_ajax_frame_805').on('load',function(){var contents = jQuery(this).contents().find('*').html();var is_postback = contents.indexOf('GF_AJAX_POSTBACK') >= 0;if(!is_postback){return;}var form_content = jQuery(this).contents().find('#gform_wrapper_805');var is_confirmation = jQuery(this).contents().find('#gform_confirmation_wrapper_805').length > 0;var is_redirect = contents.indexOf('gformRedirect(){') >= 0;var is_form = form_content.length > 0 && ! is_redirect && ! is_confirmation;var mt = parseInt(jQuery('html').css('margin-top'), 10) + parseInt(jQuery('body').css('margin-top'), 10) + 100;if(is_form){jQuery('#gform_wrapper_805').html(form_content.html());if(form_content.hasClass('gform_validation_error')){jQuery('#gform_wrapper_805').addClass('gform_validation_error');} else {jQuery('#gform_wrapper_805').removeClass('gform_validation_error');}setTimeout( function() { /* delay the scroll by 50 milliseconds to fix a bug in chrome */ jQuery(document).scrollTop(jQuery('#gform_wrapper_805').offset().top – mt); }, 50 );if(window['gformInitDatepicker']) {gformInitDatepicker();}if(window['gformInitPriceFields']) {gformInitPriceFields();}var current_page = jQuery('#gform_source_page_number_805').val();gformInitSpinner( 805, 'https://s40123.pcdn.co/wp-content/plugins/gravityforms/images/spinner.svg' );jQuery(document).trigger('gform_page_loaded', [805, current_page]);window['gf_submitting_805'] = false;}else if(!is_redirect){var confirmation_content = jQuery(this).contents().find('.GF_AJAX_POSTBACK').html();if(!confirmation_content){confirmation_content = contents;}setTimeout(function(){jQuery('#gform_wrapper_805').replaceWith(confirmation_content);jQuery(document).scrollTop(jQuery('#gf_805').offset().top – mt);jQuery(document).trigger('gform_confirmation_loaded', [805]);window['gf_submitting_805'] = false;wp.a11y.speak(jQuery('#gform_confirmation_message_805').text());}, 50);}else{jQuery('#gform_805').append(contents);if(window['gformRedirect']) {gformRedirect();}}jQuery(document).trigger('gform_post_render', [805, current_page]);} );} );
</script>
Source: news.google.com