Published 05-18-22
Submitted by PNC Financial Services Group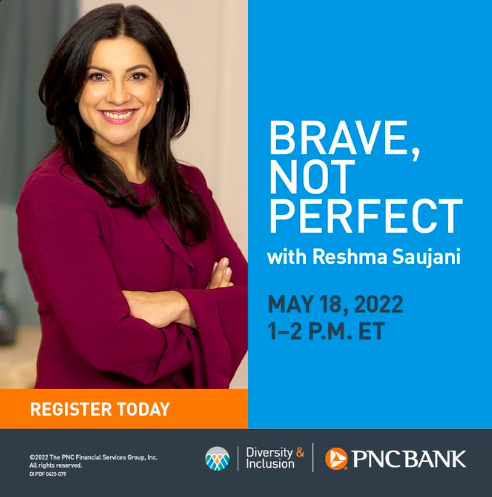 Join PNC Diversity & Inclusion for an Asian American Pacific Islander (AAPI) Heritage Month event featuring Reshma Saujani, founder of Girls Who Code and the Marshall Plan for Moms. Hear about Reshma's inspiring career changes and obstacles that have shaped her into who she is today and what she is aspiring to cause.
Opening Remarks: Christine Shambach | Head of Mergers & Acquisitions PNC Bank
Christine Shambach is senior vice president and head of Mergers and Acquisitions for The PNC Financial Services Group. She is responsible for the analysis and negotiation of business acquisition and divestiture opportunities for the corporation as well as strategic planning, resolution and recovery planning, and other duties within PNC's Finance department. Shambach joined PNC in 2010 as a member of PNC's Mergers and Acquisitions team, where she was responsible for leading the execution of PNC's acquisition and divestiture transactions, including the acquisition of RBC Bank (USA), the U.S. subsidiary of Royal Bank of Canada.

Shambach holds a Bachelor of Science and a master's degree in chemical engineering from Carnegie Mellon University, and a master's degree in business administration from the Fuqua School of Business at Duke University.
Presenter: Reshma Saujani | Founder, Girls Who Code and Marshall Plan for Moms
Reshma Saujani is a leading activist and the founder of Girls Who Code and the Marshall Plan for Moms. She has spent more than a decade building movements to fight for women and girls' economic empowerment, working to close the gender gap in the tech sector, and most recently advocating for policies to support moms impacted by the pandemic. Reshma's new book Pay Up: The Future of Women and Work (and Why It's Different Than You Think) presents a bold plan to address the burnout and inequity harming America's working women today. She is also the author of the international bestseller, "Brave, Not Perfect," and her influential TED talk, "Teach girls, bravery not perfection," has more than five million views globally.

Reshma is a graduate of the University of Illinois, Harvard's Kennedy School of Government, and Yale Law School. Her innovative approach to movement building has earned her broad recognition on lists including: Fortune World's Greatest Leaders; Fortune 40 Under 40; WSJ Magazine Innovator of the Year; Forbes Most Powerful Women Changing the World; and Fast Company 100 Most Creative People, among others. She is the winner of the Harold W. McGraw, Jr. Prize in Education.
Moderator: Anusha Gibson | Head of Diversity & Inclusion Marketplace PNC Bank
Anusha Gibson is head of PNC's Diversity & Inclusion Marketplace team. In her role, she leads the team in acting as enterprise-wide, cultural change agents, leveraging customer, marketplace, and competitive insights in collaboration with business partners to seek opportunities and create experiences that serve the needs of diverse customers and businesses. She has been with PNC Bank for over 25 years, previously leading the company's first Diverse Growth Segments team, including Marketing and Language Services.

Anusha holds a Bachelor of Arts degree in Psychology from Cleveland State University, an MBA in Organizational Behavior from Case Western Reserve University, and a J.D. from Cleveland Marshall College of Law, with a license to practice in the State of Ohio.
Closing Remarks: Ganesh Krishnan | Enterprise Chief Information Officer PNC Bank
Ganesh Krishnan is Executive Vice President and Enterprise Chief Information Officer for The PNC Financial Services Group. In this role, he drives the technology vision, strategy, innovations, initiatives, and programs for all of PNC's business lines.

Krishnan is a senior technology executive with 23 plus years of extensive diversified background, having served various industry verticals including the financial industry, insurance & litigation, auditing, information technology, and the medical industry. He has served in the executive technology management leadership role and driven technology strategy, vision, innovation, architecture, engineering & product development.

Krishnan earned his Bachelor of Science degree in electronics engineering with distinction from KIT's College of Engineering, India, and an MBA with honors (Beta Gamma Sigma) from Joseph M. Katz Graduate School of Business, University of Pittsburgh.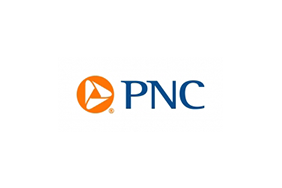 PNC Financial Services Group
PNC Financial Services Group
As a Main Street bank, we are committed to delivering on each of our strategic priorities while looking out for the best interests of all of our stakeholders, including our customers, communities, employees and shareholders. Our focus on operating with integrity drives us to help our customers achieve their goals while also strengthening our communities, reducing our environmental impact and empowering our employees to grow.
Email us to sign up for our CSR Newsletter
More from PNC Financial Services Group
Source: csrwire.com