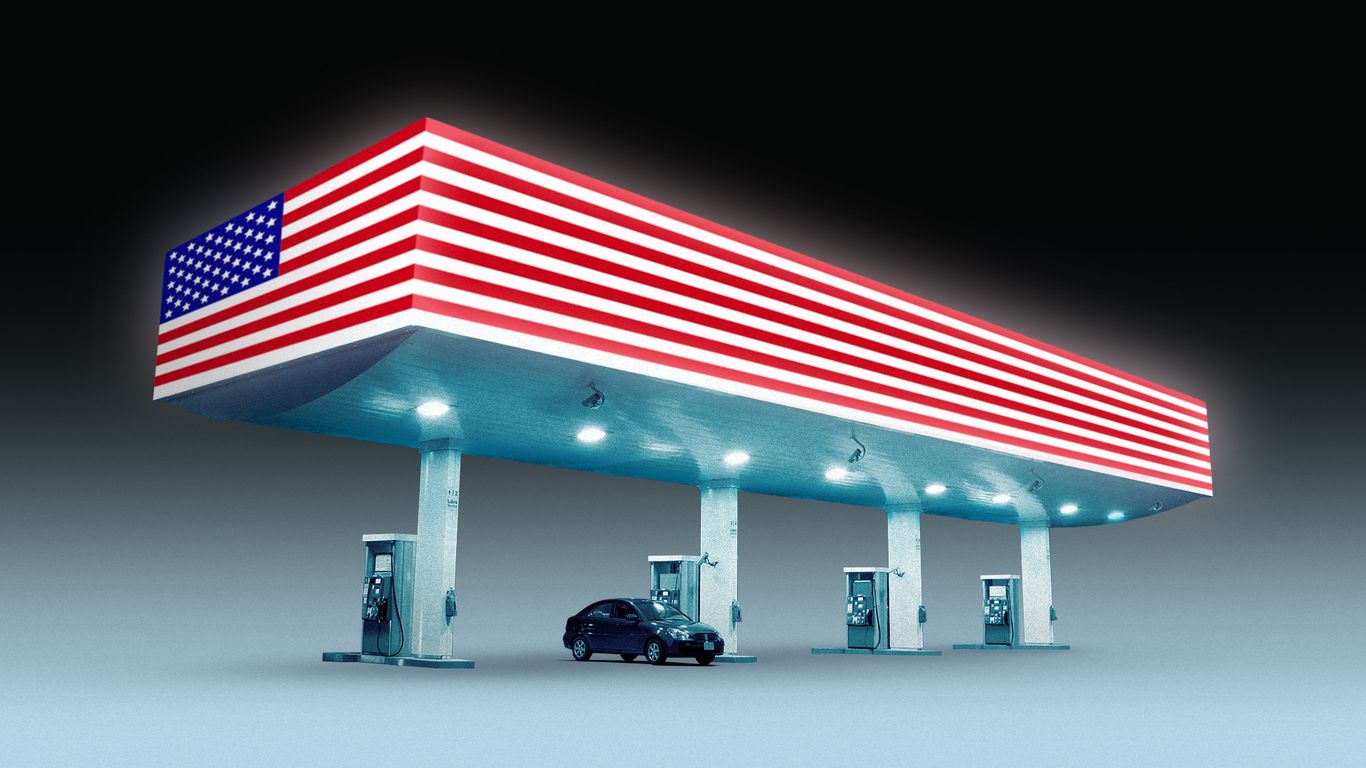 Inflation and surging gas prices have started to change the behavior of Americans whose earnings put them on the lower level of the country's income divide.
Why it matters: U.S. economic growth hinges on consumer spending. So, signs of strain among lower-income Americans could complicate the Federal Reserve's efforts to softly slow the economy with higher interest rates.
"High inflation, especially with respect to gasoline, acts as a regressive tax on consumers, and they are feeling the burden of it," wrote analysts from Morgan Stanley in a recent research note. "As such, we are more negative on companies that are levered to low-income consumers."
What's happening: In recent weeks there's been a series of indications that inflation — and nosebleed gas prices — are weighing on Americans, especially those who earn less than the typical U.S. household income of roughly $68,000. Let's take a look …
Walmart: Last week America's largest retailer, Walmart, delivered drastically lower-than-expected earnings, despite solid sales numbers, as budget conscious investors flocked to its warehouse stores in search of cheap — and not particularly profitable — items like groceries.
Executives spotlighted indications that lower-earning customers were switching from name brand lunch meats, deli items and dairy, to generics.
"Consumers are feeling inflation pressures," Walmart CFO Brett Biggs told analysts in a conference call after reporting results.
The company's stock is down roughly 25% from its all-time high back in April.
Credit card debt: It's growing at its fastest annual rate in five years, according to first quarter data recently published by the Federal Reserve Bank of New York, as consumers look to cover rising costs of everyday items like food and gasoline.
Rates for those not paying off their monthly balances are rising — generating a windfall for card issuers.
Expectations for higher profits thanks to rising rates are one reason shares of major banks/credit card issuers like JPMorgan Chase and Bank of America have soared in recent days.
Car payments: Some are finding it tougher to make monthly car payments.
The Federal Reserve Bank of New York's quarterly report on consumer credit noted an increase in auto loans with a payment that was delinquent by more than 30 days. Some 5.1% percent of auto loan balances met that criteria in the first quarter, up from 4.96% in December.
The share of so-called subprime auto loans — those with high rates made to people with less-than-stellar credit scores — that were more than 60 days late has increased in each of the last eight months, and now sits at 8.5%, the WSJ reports.
"[What] we're watching most closely would be the lower income consumer in our subprime auto," said Clarke R. Starnes, chief risk officer at Truist Financial, when asked by analysts on a conference all about any credit concerns the bank has.
Yes, but: While these may be signs of increasing financial stress on less affluent Americans, there's little evidence so far that this will turn into a serious problem for the economy.
The bottom line: Pandemic-era programs like the child tax credit that gave lower-income Americans a bit more breathing room are gone, so strong wages and employment will be even more important in the months ahead.
Source: axios.com