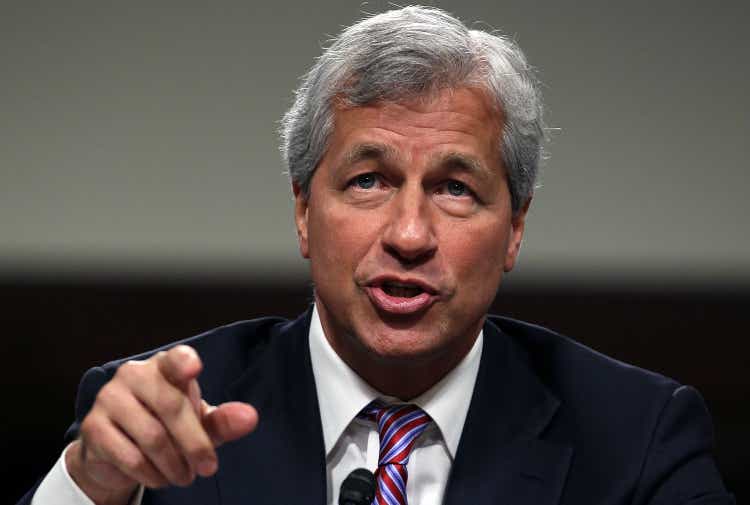 Investment Thesis
The overhanging fear of the Global Financial Crisis has still not dissipated in the minds of financial analysts. Bill Miller, one of the premier investors of the past 30 years, had some advice on how to outperform the market. He advised that where perceived risks are greater than actual risks, the investor is presented with an opportunity. Meanwhile, Jamie Dimon is working night and day to prepare JPMorgan Chase & Co. (NYSE:JPM) for the worst.
JPM dropped more than 30% in the face of a potential recession. Earlier this year, the yield curve inverted, which indicates a recession more often than not. JPM shares can always fall further, but we believe that would just present an even greater buying opportunity. JPMorgan Chase & Co. is likely to outperform the S&P 500 over the next decade, and return 11% per annum to investors.
The World's Greatest Banking Institution
JPMorgan Chase & Co. has a fantastic brand that we would argue is unmatched in the global banking industry. John Pierpont Morgan was one of the greatest financiers in history, and his name lives on within what is now the largest bank in the world by market cap.
JPM has solidified itself in the minds of American consumers. In a 2020 survey, respondents said JPMorgan Chase is the best bank in America. The company led the pack in customer experience. Moreover, 23% of America's millennials reported they bank with JPMorgan Chase. If nothing else, this signals a bright future for the bank and its loan growth.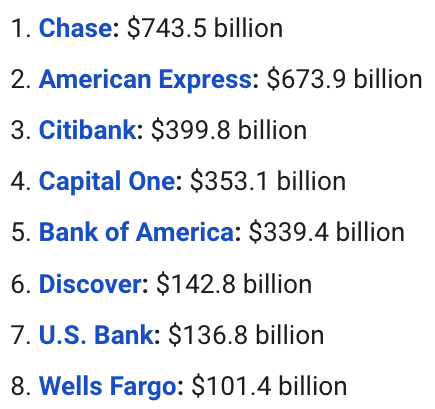 JPM is a leader in many regards. The bank offers a seamless mobile banking experience, with a 4.8 star rating on The App Store. In 2020, the company was the country's largest credit card issuer by purchase volume. And if that is not enough, JPMorgan Chase is the largest investment bank in the world by investment banking revenue.
A Fair Price
JPMorgan Chase is the 16th largest company in the world by market cap. Despite this, JPM boasted the 5th highest net income of those companies, a whopping $40.5 billion of profit over the past 12 months. The list of the world's largest companies is dominated by mega cap tech, which was also the case in the dot-com bubble of 1999. Five years after the bubble, financial institutions again were among the most valuable companies in the world, taking three of the top ten spots:

In a world with normalized interest rates, big banks may dominate again. For context, the recent environment has been defined by the lowest interest rates in 5000 years. Yes, 5000. Net interest income is set to benefit.
Meanwhile, JPM looks fairly valued. Back in the days of normal interest rates, 1995 to 2005, Bank of America traded around 2x book value. This is despite arguably being an inferior institution to what JP Morgan Chase is today. JPM reached a price to book of 3x in 2000 and now trades at half that level: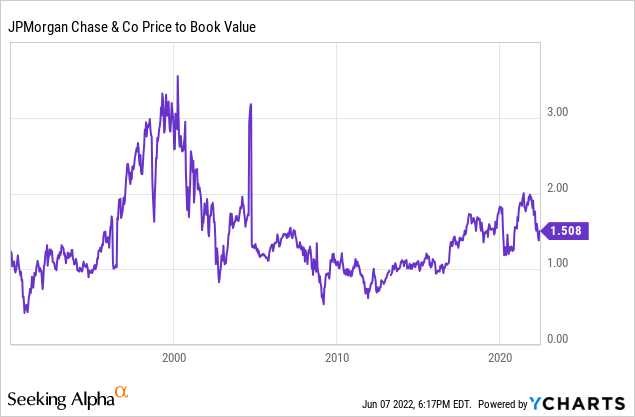 Banks are demonstrably cheaper than the broader market, and a lack of speculative ownership may be the cause. JPMorgan Chase is the kind of company that can withstand economic change and deliver cash to shareholders over a century's time, which could be why Warren Buffett loves the industry. Bank investors are much more conservative than the speculative broader market, possibly because they are primarily institutional investors. Shares of JPM are 71% owned by institutional investors, compared to just 43% for Nasdaq holdings like Tesla (TSLA), which has a much larger market cap.
A Resilient U.S. Consumer
In Q4 of 2021, consumers' debt payments represented only 9% of their disposable income. This was near a 40 year low.
Debt Service Payments as a Percentage of Disposable Income:

On average, American consumers can sustainably take on new loans and pay higher interest rates in the decades ahead.
Long-Term Returns
Over the past 15 years, JPM has grown net income and shareholder's equity at 6% per annum. This is measuring from peak earnings in 2007. All the while, JPM was paying out a sizeable dividend and should continue to do so going forward.
Our 2032 price target is $270 per share. With dividends reinvested, this implies a return of 11% per annum.
We have normalized EPS by taking the average earnings of the past three years, which included a 2020 recession. On the current shares outstanding, that amounts to $12.32 per share.
Analysts are projecting the company to grow EPS at 5% to 7% per annum over the next 5 years. Because of the enduring strengths of the franchise, we believe the company could continue this type of growth for decades to come. Given the high dividend yield and reduced ability to reinvest, we are estimating 5% annual growth over the next decade. This is an attainable target given that the company repurchases shares regularly. Compounded at 5% per annum, $12.32/share becomes $20.07/share in 2032.
Finally, we have applied a terminal multiple of 13.5, which is both appropriate for this level of growth and relevant on a historical basis: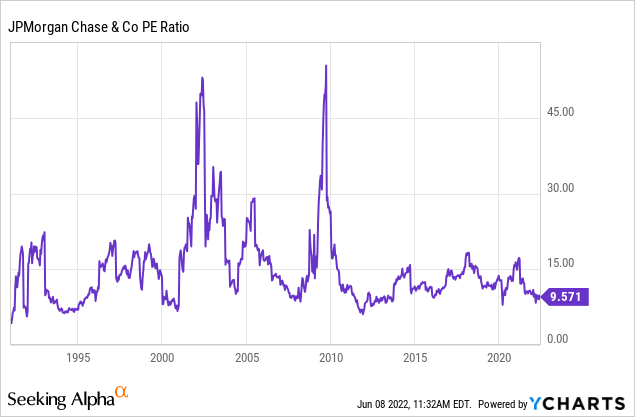 Risks
Under terrible economic conditions, poorly managed banks can fail as we saw in 2008. Management must ensure the bank is run with prudence. That said, great changes have been made since 2008 to ensure that American banks are well capitalized and prepared for the worst.
Banks are complex businesses, and this article is not the qualified opinion of a bank analyst. In order to find all of the underlying risks, one would have to dig further into the nuisances of JPMorgan Chase's financial statements and loan portfolio.
Conclusion
An investment in JPM is an investment in the world's greatest banking institution, at a fair price, with a long growth runway. The U.S. consumer is resilient, and JPMorgan Chase is run by a conservative CEO in Jamie Dimon, one of the best to ever do it. We have a "buy" rating on the stock.
Why would Wall Street sell a market-beating return? We believe it is because Wall Street has a short focus. As Warren Buffett once said, "A short focus is not conducive to long profits."
Source: seekingalpha.com