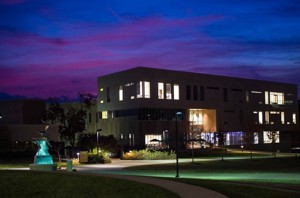 Dr. Sudesh Mujumdar has accepted the position of Dean of the Romain College of Business at the University of Southern Indiana. The announcement was made Thursday, June 16 by USI Provost Dr. Mohammed Khayum and is effective July 25, 2022. Mujumdar will succeed Dr. Cathy Carey, who served in the position from July 2019 to October 2021, and Dr. Brian McGuire, Professor of Accounting, who served as Interim Dean beginning in November 2021.
"Leading change has been a primary responsibility for Dr. Mujumdar in his role as Dean," Khayum says. "His recent accomplishments demonstrate his ability to recognize opportunities for synergy and integration in the strategic positioning of a college of business. I expect Dr. Mujumdar's expertise and leadership will serve to strengthen the brand of the Romain College of Business and enhance USI's capacity to deliver exceptional educational experiences."
Mujumdar has served as Dean of the College of Business Administration at Savannah State University in Savannah, Georgia, since September 2019. As Dean, he successfully led the College in its extension of AACSB accreditation and secured more than $4 million in grants and private donor funding. He also successfully led the inclusion of Savannah State University as a partnering institution in Bank of America's $1 billion initiative to expand economic opportunity and social justice.
Through a consultative and inclusive process, Mujumdar strategically positioned the College for enrollment growth and impact, forging partnerships and relationships with business organizations such as Gulfstream and PricewaterhouseCoopers, various city and state government offices, Texas A&M's Human Behavior Lab, and the Avatar Lab at the Bagwell College of Education (Kennesaw State University), shaping its brand identity and visibility.
As Dean and the Interim Assistant Vice President of Academic Affairs, Mujumdar co-led the creation of innovative, market-leading programs and the first undergraduate degree program in data analytics which builds on competencies from multiple disciplines, including business, liberal arts, science and engineering.
Prior to his Deanship at Savannah State University, Mujumdar served as Chair for the Economics and Marketing Department in USI's Romain College of Business where he led the innovative rethinking of programs and initiatives for enrollment growth and community impact by fostering a supportive and inspiring work environment.
Mujumdar earned bachelor's and master's degrees in economics from the University of Bombay and master's and doctorate degrees in economics from the University of Cincinnati. He also completed the Program on Negotiation and Leadership at Harvard Law School. His research has been published in top journals, and he has lent his professional expertise to partner with a variety of organizations including Kimball and Holiday World, mayors of various cities and state government agencies, as well as international entities. Mujumdar also has appeared in various media outlets such as The New York Times, Fox, ABC and CBS affiliates to weigh in on a wide range of economic and business issues.
The Romain College of Business, one of four colleges at USI, is AACSB-accredited for both its business and accounting undergraduate and graduate programs, a distinction shared by only select accredited institutions. The College offers eight bachelor's degree programs, 12 minors, and a Master of Business Administration program that is available in traditional and accelerated online formats with several areas of emphasis. For more information, visit the Romain College's website at USI.edu/business.
Source: usi.edu