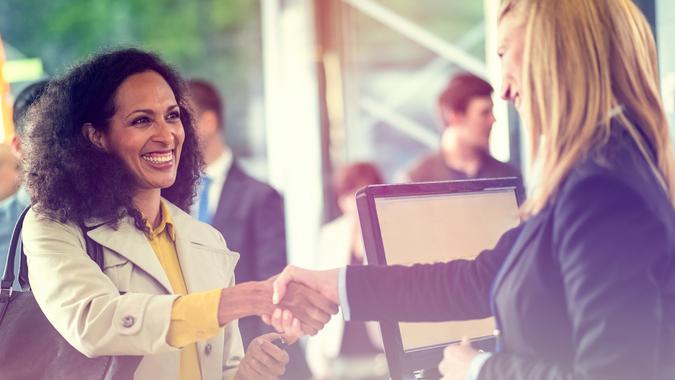 simonkr / Getty Images
A private bank is an institution with which you have a 1:1 relationship with a banker, who can help you with every aspect of your financial affairs. A private bank should also offer customers exclusive access to all the services that financial planners and banks provide, such as banking, borrowing, planning and investing. If you think you'd benefit from joining a private back, keep reading to see what the top five are.
To find the best private banks for 2022, GOBankingRates ranked the following based on these factors:
Total assets
Number of branch locations
Checkings account annual fee
Savings account APY
12-month CD APY
Customer service products offered
Bauer rating
Products and services offered
Average mobile app rating.
Here are the best private banks of 2022.
Morgan Stanley: $1,222.23 Billion in Assets
Why it stands out: Although Morgan Stanley is sometimes called an investment bank, it's more: It's a commercial bank and a financial holding company.
It offers wealth management, investment management, an alternative account called CashPlus and numerous educational opportunities for its customers. In addition, you'll have access to ATM rebates all over the world, online bill pay, mobile deposit with higher limits, debit and its American Express credit cards. It also has a highly rated app, which earned 3.8 stars on Apple's App Store and 4.1 stars on the Google Play Store as of June 11, 2022.
Pros:
Extensive line of choices
Services for beginners and pros
Cons:
Annual fee of 0.30% of assets
Must invest at least $5,000
What to look for: Morgan Stanley doesn't accept cash deposits, so if that's a must for you, look elsewhere. This one is best for those investing with Morgan Stanley and wanting their investment and bank accounts at the same institution.
Merrill, A Bank of America Company: $3,238.22 Billion in Assets
Why it stands out: Merrill's more than 13,000 advisors take personalized approaches to customers' needs and investing strategies to help them prioritize their goals and fine-tune their overall financials. Because of its affiliation with Bank of America, account holders can move seamlessly between brokerage and banking services instantly to pay bills and transfer money.
Merrill is known for its 24/7 customer service and customers' access to its excellent market research and education. Its highly rated app earned 3.8 stars on Apple's App Store and 4.1 stars on the Google Play Store as of June 11, 2022.
Pros:
Easy to link accounts for Bank of America customers
Free research
Merrill Edge MarketPro platform for active traders
Cons:
No OTC stocks
Not much derivatives trading
What to look for: Merrill Edge doesn't give customers access to advanced derivatives like futures and forex, so you might look elsewhere if you want that. In addition, the bank is best for retirement savers, beginning traders, new investors and Bank of America customers.
J.P. Morgan Private Bank: $3,954.68 Billion in Assets
Why it stands out: Global Finance magazine named J.P. Morgan as 2022's "Best Private Bank in the World." It offers specialists in a number of different categories: taxes, estate planning, charitable giving and business strategies. You'll also have access to the private banking experience at branches in the U.S., Latin America, Asia, Europe, Middle East and Africa. Its app got high marks: 4.3 stars on Apple's App Store and 3.9 stars on the Google Play Store as of June 11, 2022.
Pros:
Access to thousands of Chase branches nationwide
Dedicated J.P. Morgan team members and client service professionals
Access to universal ATMs for free
Cons:
High entry fee for private banking
Higher fees potential
What to look for: The biggest drawback to opening an account at J. P. Morgan Private Bank is that you'll need $10 million in assets — that will get you personalized financial planning, cross-border wealth advisory, goals-based investing and advice.
Citi Private Bank: $2,394.105 Billion in Assets
Why it stands out: Citi Private Bank aims to help the world's wealthiest families, law firms and individuals grow and protect their wealth. The bank focuses on those with an average net worth of more than $100 million, giving them a highly personalized banking experience and access to products and services including banking, investments, real estate, custody, wealth planning and aircraft financing and lending.
The bank's customized approach comes with competitive pricing and deft execution. Its app earned 4.9 stars on Apple's App Store and 4.7 stars on the Google Play Store as of June 11, 2022.
Pros:
Extremely customized banking experience
Opportunities to meet peers worldwide at events designed to educate, inform and entertain
Cons:
Caters to the very wealthy
Fees can get quite steep
What to look for: Citibank's private banking services are mainly aimed at wealthy families and family offices, professional investors, lawyers and law firms, so if you don't fall in one of those categories you might want to look elsewhere for your banking needs.
Goldman Sachs: $1,589.44 Billion in Assets
Why it stands out: Offering a wide range of financial services such as consumer banking, investment banking, management and securities to a client base that includes individuals, corporations, governments and financial institutions, Goldman Sachs is headquartered in New York and has offices across major world financial centers.
The company invests its own capital with its clients to grow business, and offers customized banking products to spend, borrow and save. Its Global Investment Research division gives customers insights and analysis in the currency, commodities, equity and fixed income markets. Its app earned 4.8 stars on Apple's App Store and 4.2 stars on the Google Play store as of June 11, 2022.
Pros:
Invests its own capital with customers
Access to Global Investment Research division
Cons:
Must have $10 million in assets for accounts in private wealth division
What to look for: If you have $10 million to open an account, Goldman Sachs might be right for you. If you don't, however, you might want to consider checking out a Marcus: by Goldman Sachs account, which requires no minimum deposit and has no fees, plus a % APY on its high-yield online savings account, which is four times the national average.
Final Take
Private banking is really designed for high-net-worth individuals who are looking for a customized experience and a number of services — and that comes at a cost. For the average consumer, using a private bank is likely not necessary or cost efficient. If, however, you have the entrance fee to use a private bank and you like the idea of having your own, personal banker, it might be the right choice for you.
GOBankingRates is a personal finance and consumer interest rate website owned by ConsumerTrack Inc., an online marketing company serving top-tier banks, credit unions and other financial services organizations. Some companies mentioned in this article might be clients of ConsumerTrack Inc., which serves more than 100 national, local and online financial institutions. Rankings and roundups are completely objective, and no institution, client or otherwise, paid for inclusion or specific placement. Any opinions, analyses, reviews or recommendations expressed in this article are those of the author alone and have not been reviewed, approved or otherwise endorsed by the companies included in the article. All fees and rates are subject to change at the issuers' discretion. Some interest rates might be short-term or promotional offers only, and it is possible additional terms and conditions must be met to obtain the interest rates listed. Rates and availability might vary by region. Verify terms and conditions before opening an account.
Rates are subject to change; unless otherwise noted, rates are updated periodically. All other information on accounts is accurate as of June 17, 2022.
Source: gobankingrates.com