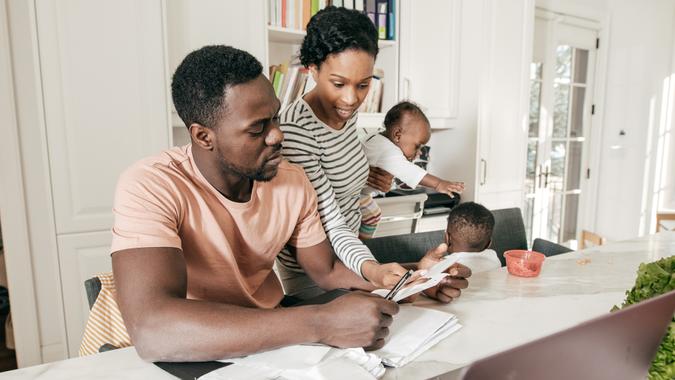 kate_sept2004 / Getty Images
The best laid plans can often go awry when it comes to finances, because unexpected expenses have a not-so-funny way of cropping up when they are the last thing you need. Such expenses can range from childcare costs and car repairs to higher than usual bills and health-related emergencies.
Cash App Borrow: How To Borrow Money on Cash App
Small Business Spotlight 2022: Nominate Your Favorite Small Biz
Even when you have a solid budget, it's good to build in a buffer to give you wiggle room for the unexpected. Here, experts suggest how much wiggle room you should have for a variety of different considerations in your monthly budget.
Annual Expenses
Costs that we pay on a yearly basis sometimes appear without our knowledge, said Jonathan Merry, Director at Bankless Times. "We forget about them, and when it's time to pay, we're caught off guard."
Here's a quick rundown of some examples of yearly expenses he cautions people to account for:
Vehicle registration — ranges from an average of $67 to well over $200
Homeowners insurance — the national average is $1,784, according to NerdWallet
Hosting a website — between $24 and $144 per year
A subscription to Amazon Prime — recently increased to $139 per year
Merry recommends you take the cost of anything you pay for once a year and divide it into twelve installments, and put aside that money on a monthly basis.
POLL: Do You Have a Side Gig or Other Hustle?
Discretionary vs. Essential Spending
Kathleen Malone, a financial advisor with Wells Fargo Advisors in North Carolina, recommends people make a list of "discretionary" and "essential" expenses and list all those that go beneath each category.
"Under essential, list things you can't do without: mortgage, car payment, food and so on. Under discretionary, list things are that nice to have such as dining out at restaurants, manicures/pedicures, massages and so on."
Then, while the wiggle room in the budget will be different for everyone, she suggests accumulating "enough into an emergency fund monthly to get to a point in which they've saved $1,000-$5,000."
The goal, she said, is to have enough money saved to avoid using a credit card or dipping into any retirement savings.
For Families With Kids
Parents face many unexpected fees or expenses associated with raising children, and it only gets more challenging and unpredictable as they grow older.
Michael Ryan, a financial advisor and founder of the financial literacy website michaelryanmoney.com, said, "Experts suggest that you have at least $100 per month set aside for these types of expenses. By being prepared you avoid falling into the trap of building up credit card debt which is incredibly expensive over time."
General Unexpected Expenses
Professor Michael Collins, CFA of Endicott College in Beverly, Massachusetts and the founder and CEO of WinCap Financial, suggested the average American family set aside $200 to $300 per month ($2,400 to $3,600 annually) for unexpected expenses. "While this may seem like a lot, remember that unexpected expenses can pop up at any time. And, if you're not prepared, they can really put a dent in your budget."
Some common unexpected expenses include medical bills, car repairs, home repairs, utility bills, child-related expenses and pet expenses … along with a bunch of stuff you just don't think about!
50/30/20 Budget
Truthfully, there is no right or wrong answer when it comes to how much wiggle room you should have in your budget, said Brian Meiggs, an entrepreneur and the founder of the personal finance site Smarts.
"If you're not sure where to start, try following the 50/30/20 rule. This guideline suggests spending 50% of your income on necessities like rent and groceries, 30% on wants like entertainment and travel, and 20% on savings or unexpected expenses and debt repayment. By following this rule of thumb, you can ensure that you're spending within your means and leaving room in your budget for both needs and wants."
Three Months of Padding
For families who don't want to think about saving money for specific kinds of expenses, they can follow the general rule of thumb of having an emergency fund that covers up to three months of expenses, according to Lisa Fischer, chief growth and lending officer at Mission Lane.
She pointed out that a recent assessment by the U.S. Bureau of Labor Statistics found that the average DC metro area resident spends nearly $73,000 a year on housing, transportation, food, insurance/pensions and healthcare, averaging out to about $6,000 per month. "So, a person making similar spending decisions might want to work toward having $12,000 to 18,000 saved up."
Divide and Conquer: Fixed vs. Variable Expenses
Sam Lewis, founder of SJL Financial, LLC, recommends a "divide and conquer approach" to your budgeting and spending. He suggests funding one checking account each paycheck to cover fixed recurring expenses that don't vary, such as mortgage, gym memberships, etc.
Then, he recommends creating a second checking account for variable expenses including bills that vary, such as water and gas, and groceries and child-related costs. "I typically recommend taking the average of the last year's monthly expenses in those categories and adding a buffer of 10%. To make sure the account always has the needed funding, I recommend a buffer of $500 to $1,000 so that payments can be made when due and not waiting on a paycheck to be deposited."
He adds, "My family currently budgets about 6% of our gross income to this checking account. We also budget 3% to a short-term savings account. This is what is used for larger unexpected expenses but also serves as an overdraft source for our variable expense account."
More From GOBankingRates
Source: gobankingrates.com