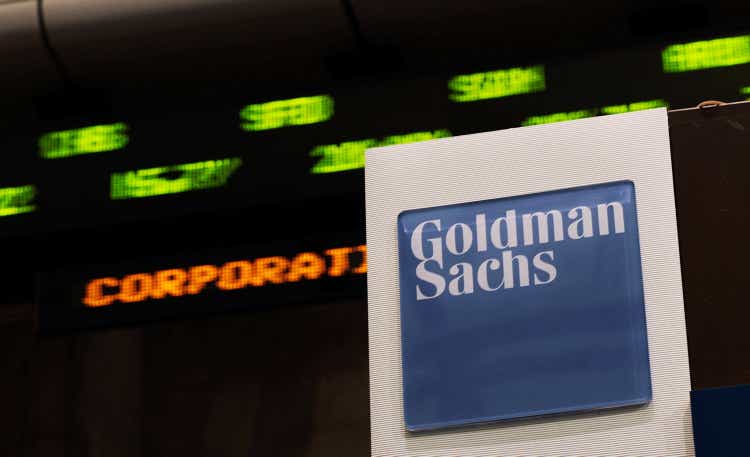 Thesis
Lithium Americas Corp.'s (NYSE:LAC) Caucharí-Olaroz project is about to begin production in the months to come. It'll be selling lithium into a much more favourably priced market than when the project was initially proposed back in 2016. But according to Goldman Sachs (GS), that is about to change, as the bank predicts a drastic fall in lithium prices over the next couple of years. However, Lithium Americas' experience planning and building both its Caucharí and Thacker Pass projects show why that isn't likely to happen.
Lithium Demand
The outlook for lithium demand has been an area of great debate in recent weeks. Investors familiar with the lithium sector may be aware that Goldman Sachs put out a bearish report predicting a fall in lithium prices to just over $16k/tonne in 2023. Amongst other factors, the bank cited price dampening effects brought about by increased Chinese and Australian hard rock supply coming to market.
Needless to say, this caused a great bit of controversy in lithium circles, and drew a quick response from Benchmark Minerals Intelligence. The firm put out its own report outlining a bullish case for lithium demand in the coming years. In the report, it cited the frequent inability of miners to bring projects online by the promised date, something which is very common in the industry. Below are two graphs summarizing their diverging lithium forecasts.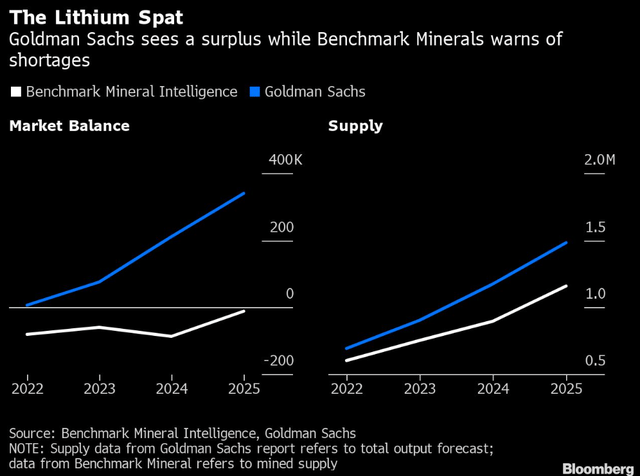 While this back and forth doesn't appear to have had any impact on the spot price of lithium, which has traded in a steady range for most of the year. It may have contributed to a broad-based pullback in lithium stocks, most of which have been trending downwards over recent weeks. Investors have been selling off the sector as a whole, making no distinction between senior and junior miners, as can be seen in the chart below.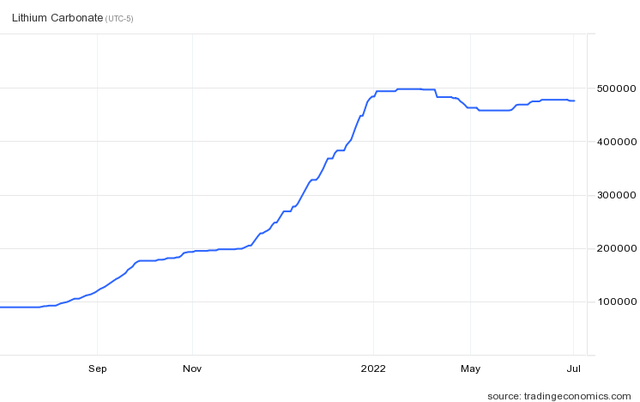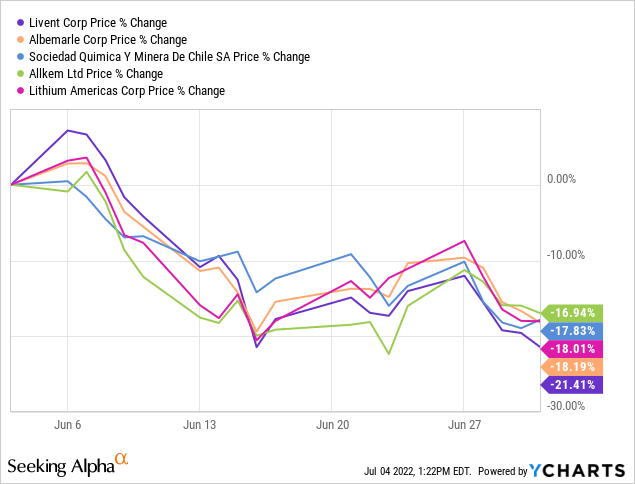 In fact, investors are in such a rush to get out, that they no longer make the distinction between marginal miners and companies with solid assets and excellent long-term prospects. That's where Lithium Americas comes in.
Cauchari-Olaroz
LAC is a pre-production miner currently developing three projects, two of which are in Argentina while the other is in the US. Of the three, the Argentinian Caucharí-Olaroz is nearest to production as construction advances quickly and commissioning is slated to begin in the back half of this year.
Once fully ramped, the site will generate 40k tpa of battery-grade LCE for the next 40 years at a cash cost of $3,600/t. Forty-nine percent of the tonnage will go to Lithium Americas while the remainder will go to Ganfeng Lithium, the company's JV partner. After production begins at the site, construction will immediately start on Phase Two of the project which will see an additional 20k tpa of capacity added over the coming years. A timeline of the Caucharí project can be seen below.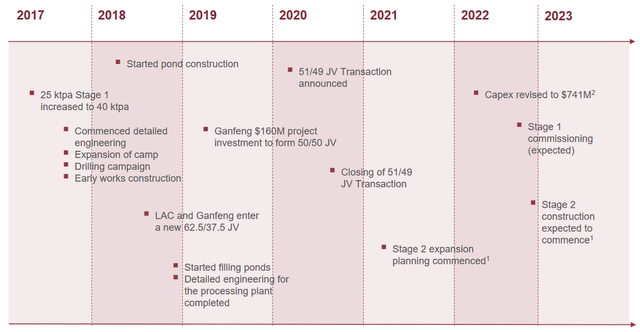 Thacker Pass
While Caucharí moves towards production, the company's US project continues to wind its way through the regulatory and legal jungle here at home. Just last week, the Nevada State Environmental Commission affirmed LAC's previously contested Water Pollution Control Permit. The permit is vital for the company's planned Thacker Pass lithium mine and was held up due to an administrative appeal filed in March of this year.
The company hopes to resolve another lawsuit in Q3 of this year. This one concerns the Record of Decision issued to LAC by the Bureau of Land Management in January 2021.
Lithium Supply
Lithium Americas is a good example of why Goldman Sachs' bearish lithium price target may not come to pass, and why BMI's report may be closer to the mark. It's worth remembering that back in 2016, LAC was targeting 2019 for the start of lithium production at Caucharí. But as is often the case in these big complex projects, unexpected slowdowns are bound to occur. Management can't factor these into their initial plans because of the fact that they're unexpected. Halting construction for Covid is an excellent example, and so are lawsuits and regulatory challenges.
For shareholders a delay in a project's construction is never welcome news. But as BMI points out in their report, the accumulated impact of all these producer project delays throughout the industry has the effect of limiting lithium supply growth and keeping prices elevated. At the individual company level, the important thing is management's ability to eventually complete the project and start producing.
So, while shareholders may have to wait longer than they initially thought for production to begin, when that does eventually occur, they'll begin benefiting from the accumulated delays in all the other projects in the industry.
LAC's shareholders may be tempted to despair when they see all the regulatory and legal obstacles in Thacker Pass' way. But as the Caucharí project approaches the finish line, they should finally start to benefit from all the chronic construction delays in the lithium industry and the high lithium prices that those bring about.
Risk
The primary risk to this thesis is that the Goldman Sachs target is correct. If that were to occur, the Caucharí and Thacker Pass projects would still be profitable, but the lower lithium prices would probably result in LAC's stock taking a substantial hit.
Source: seekingalpha.com