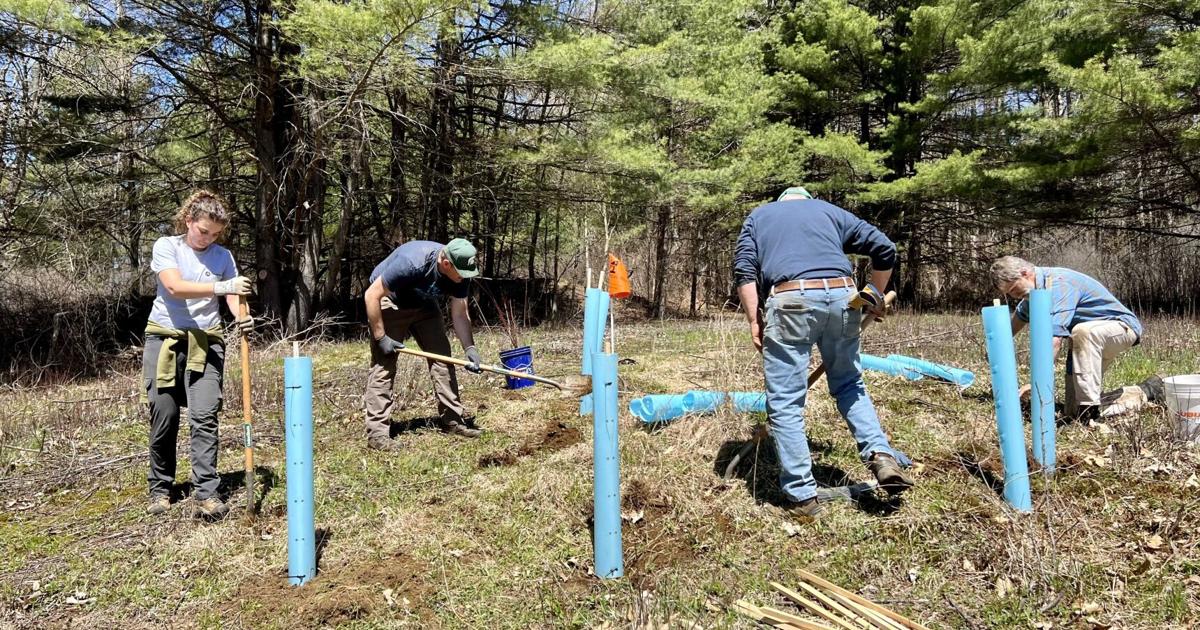 BRATTLEBORO — Volunteers planted nearly 1,600 native trees and shrubs in Barre, East Montpelier, Westminster and Brattleboro this spring to restore wetlands and streams and to improve wildlife habitat.
The plantings along tributaries of the Winooski River and the Connecticut River will help restore the health of wetlands and streams, according to he Vermont Land Trust. The restoration projects were completed on Old Soul Farm in Barre, Fairmont Farms in East Montpelier, and former farm fields in Westminster and Brattleboro.
"We're working with farmers and partners across the state to re-forest some land along streams and wetlands," said Allaire Diamond, an ecologist with the land trust. "Those forests can keep water clean downstream, by slowing down water and absorbing nutrients."
Partners included Friends of the Winooski River, US Fish and Wildlife's Partners program, the Windham County Natural Resources Conservation District, and the Vermont Land Trust with over 60 volunteers from Ursa Major Skincare, SunCommon, the ECO AmeriCorps program, the Vermont Housing & Conservation Board, and local communities.
"It's part of our responsibility to the local and global community to volunteer on projects like this," said Natasha Yandow of Ursa Major Skincare, who volunteered at Old Soul Farm in Barre. "After all, water connects us all."
In Brattleboro, volunteers planted nearly 300 shrubs in old pastures to create "islands" of habitat that will be attractive to shrubland birds such as the Blue-winged Warbler, Brown Thrasher and Eastern Towhee.
In Westminster, the Windham County Natural Resources Conservation District led partners and volunteers in planting 300 trees on retired farmland along a tributary of the Connecticut River, to improve wildlife habitat and restore wetlands.
"With changes brought on by a warming climate and excessive deer browse, old pastures and fields are often overrun with invasive plants that inhibit the native shrubs and trees better suited to supporting our fauna," explained Pieter van Loon, lead forester at the land trust. "The goal of this work is to increase biodiversity and restore more natural habitat."
These efforts were made possible with funding from the Vermont Department of Environmental Conservation; the US Fish & Wildlife's Partners for Fish & Wildlife program; Watersheds United Vermont; the Vermont Natural Resources Conservation Council; the White River Partnership; Vermont Fish & Wildlife Habitat Stamp Program; National Fish & Wildlife Foundation; the Hollis Declan Leverett Memorial Fund, Bank of America N.A., Trustee; and other sources.
Rooted in Vermont since 1977, the Vermont Land Trust has protected more than 620,000 acres of land and fostered life-long connections to farms, forests, and community spaces that define Vermont. Learn more at vlt.org.
Source: reformer.com