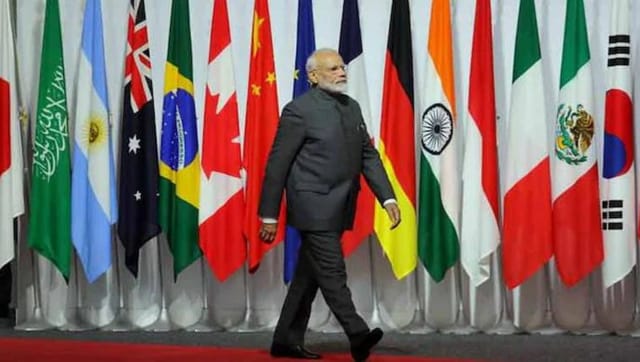 At the dawn of 2023, as the mist gently lifts, an early stretch of India's shimmering path to the future is visible. If there is a steady, determined leadership in the coming years and the citizenry keeps being fired up by resurgent nationalism, India's place as a superpower is assured, and so is overall prosperity for her people.
The talk of this being China and India's century is banal. But exactly 30 years ago, Deng Xiaoping told China, "gǎi gé kāi fàng", or open up to the world. It was the world's tenth largest economy then. It is poised to overtake the US and be the largest in the next couple of years.
China's quiet and consummate nation-building of the last three decades has very few parallels in history. Today, India seems set to traverse that road.
The signs are increasingly becoming clear. Ingredients needed for a tectonic shift are falling into the cauldron of the moment for India. Let us examine the five main demonstrable factors driving this change.
Civilisational and national reawakening
The dominant global liberal order of the last three decades, which has created a self-serving power elite, looks condescendingly at India's nationalism. But the very constituents of this global order, the leading western nations, had become developed and wealthy from being swamps of poverty and squalid shantytowns only by the push of nationalism. From Germany to France, the United Kingdom to the United States, Italy to Scandinavia, nation after nation pulled itself up from their shabby existence after nation states emerged in Europe and the pride in one's land, language and people became the main driver of change.
Nationalism even fired China, Japan, and Russia to reawaken from slumber and transform themselves into major global powers again. Industry, technology, and military might were the body of this mutation. Nationalistic spirit remained the soul.
While all this was happening in 17th to 19th century Europe, a thousands of years old civilisation was getting ravaged at the hands of brutal Islamic invaders and colonisers from the rising Europe.
As Bharat rises again with Narendra Modi at the helm, several colonial and anti-national structures are falling by the roadside. Article 370 that gave Kashmiri separatism a boost is gone. India is on its way to getting a Uniform Civil Code and an educational system that corrects history and regenerates civilisational knowledge. There is a massive cultural revival, rejection of Islamism and Communism.
Most importantly, there is a growing unity of purpose and renewed pride in the self that has driven every successful nation to excel.
Unchaining the economic giant
In spite of three crippling waves of the pandemic and teething troubles from setting structures like GST, Insolvency and Bankruptcy Code, real estate regulation, and digital economy in place, India remains the fastest growing major economy and the brightest spot of hope for investors.
Morgan and Stanley, one of the most influential companies of the world, said last year that three megatrends — global offshoring, digitalisation and energy transition — are setting the scene for India's unprecedented economic growth.
"We believe India is set to surpass Japan and Germany to become the world's third-largest economy by 2027 and will have the third-largest stock market by the end of this decade," said Ridham Desai, Morgan Stanley's Chief Equity Strategist for India. "Consequently, India is gaining power in the world order, and in our opinion these idiosyncratic changes imply a once-in-a-generation shift and an opportunity for investors and companies."
Morgan and Stanley reckons that India's GDP could more than double from $3.5 trillion today to surpass $7.5 trillion by 2031. India's per capita income is projected to rise from $2,000 now to about $5,000 by then.
Its share of global exports could also double over that period, while the Bombay Stock Exchange could deliver 11 percent annual growth, reaching a market capitalisation of $10 trillion in the coming decade, the company estimates.
The World Bank shares Morgan and Stanley's optimism. It believes India's economy is relatively insulated from global spillovers compared to other emerging markets. This is partly because India has a large domestic market and is relatively less exposed to international trade flows.
"India's economy has been remarkably resilient to the deteriorating external environment, and strong macroeconomic fundamentals have placed it in good stead compared to other emerging market economies," said Auguste Tano Kouame, World Bank's Country Director in India. "However, continued vigilance is required as adverse global developments persist."
Ahead of the Union Budget, PM Modi on Saturday signalled further reforms. At a meet of chief secretaries of states, he said mindless compliances should be done away with and outdated laws scrapped. Thanks to his much-vilified demonetisation, India today leads in digital payments.
Economic rise is key to global power. That rise in India's case seems almost certain, although with major caveats.
Independent and assertive diplomacy
No Indian PM before Modi has pursued the country's self-interest more assertively at the global stage. India has taken on a rampaging China at our borders and retaliated in good measure. It has talked back to America and Europe when lectured about its relations and trade with the West's pariah, Putin.
Modi even snubbed Putin at September's Shanghai Cooperation Organisation (SCO) summit in Samarkand, Uzbekistan, He said "today's era is not of war" and Putin should "move on to a path of peace". Soon after, India voted in favour of a resolution to allow Zelenskyy to virtually address the United Nations General Assembly in New York.
India's policy of global vision tempered by self-interest was on full display in 2022. While it led the world by sending Covid vaccines to more than 70 countries, it refused to be bullied into sacrificing its energy needs when far more developed nations used dirty energy to get rich and still leave a much bigger carbon footprint. Now that India heads the G20 for a year, Zelenskyy recently requested PM Narendra Modi to come up with a "peace formula".
While being a member of the Quad with the US, Japan and Australia, India conducted joint military exercises with Russia and China last year.
Led by PM Modi and External Affairs Minister S Jaishankar, India has shown the confidence to be the voice of smaller nations from Africa and other continents. It is already one of the main fulcrums of an increasingly multipolar world.
Military might, Made in India
India used to be the biggest importer of arms. But in the last eight years, it has upped its defence exports by eight times.
In 2021-22, India's defence exports touched a record Rs 13,000 crore. Around 70 percent of defence production was done by around 50 Indian companies in the private sector.
India conducted 38 missile tests in 2022. Some were new missiles, which included a naval anti-ship short-range missile, a helicopter-launched anti-ship missile, a very short range air defence system and a man-portable air defence system.
The country has exported arms and technology to Italy, Sri Lanka, Russia, Maldives, Mauritius, Nepal, France, Sri Lanka, Egypt, Israel, Bhutan, UAE, Saudi Arabia, Ethiopia, Philippines, Poland, Spain and Chile.
Spending Rs 31,000 crore, the government has started building 64 strategic roads with a total length of 3,508 km and 103 bridges along the border. More than 6,000 km along the border are under construction.
In 2022, 28 projects were inaugurated and 103 infrastructure projects of the Border Roads Organisation were dedicated to the nation in the year at a total cost of Rs 2,897 crore.
Last year, intruding Chinese troops were beaten up by Indian soldiers at Tawang, Arunachal, in a continuing series of low-intensity, mainly hand-to-hand skirmishes.
India also developed a military base in the North Agalega Islands of Mauritius. It already has bases in Tajikistan, Bhutan, Madagascar, Seychelles, Oman, Iran, Singapore and Sri Lanka.
Self-sufficiency in defence has been one of the hallmarks of India's recent surge towards the future.
Indigenous research
Scientific research used to be modern India's weak point. State-run labs were controlled by a rotting, politicking bureaucracy.
That has started changing. From budget rocket launches to Deep Ocean research to green energy, the country has taken significant leaps. But the most impressive feat lately has been India's reach out to the world during Covid 19 with its own indigenously developed vaccine.
Without innovation and research, no nation can even dream to be tomorrow's superpower. While the allocation for this has been going up incrementally and now stands at Rs 14,217 crore, India's gross expenditure on research and development per capita is lowest in the world at $43. The forthcoming budget may see a substantial correction.
The nation is at the cusp of realising its potential. Ten or 15 more years of smart policymaking and closely monitored implementation will take it to a place perhaps not conceivable to its 1.4 million population, except for those who can look beyond immediate horizons.
Read all the Latest News, Trending News, Cricket News, Bollywood News,
India News and Entertainment News here. Follow us on Facebook, Twitter and Instagram.
Source: news.google.com