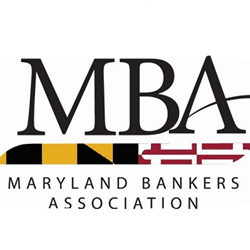 "Thank you to our speakers, attendees, sponsors, and staff for making this year's Forum such a success. I look forward to continuing this wonderful exchange of ideas as we move forward together throughout the remainder of 2023." – Ramon Looby, President and CEO of the Maryland Bankers Association
ANNAPOLIS, Md. (PRWEB) January 09, 2023
On Friday, January 6, the Maryland Bankers Association hosted its 16th annual "First Friday" Economic Outlook Forum at the Renaissance Harborplace Hotel in Baltimore, MD.
The Forum – held in participation with the Maryland Association of CPAs, Maryland REALTORS®, Maryland Chamber of Commerce, and Maryland Retailers Association – examined the impact of Maryland's businesses on the region's economy over the past year. The attendees discussed expectations for the year ahead and networked with fellow professionals in the state's banking and business sectors.
Chairman and CEO of Sage Policy Group and the Maryland Bankers Association's Chief Economist, Anirban Basu, kicked off the annual Forum with an update on the region's economy. Following his presentation, Basu moderated a panel of experts including Scott Love, Executive Vice President and Chief Investment Strategist at Wesbanco; Kurt J. Rankin, Vice President and Senior Economist of PNC Financial Services Group; Eylem Senyuz, Senior Vice President and Senior Global Macro Strategist of Truist Advisory Services; and Luke Tilley, Chief Economist and Head of Asset Allocation and Quantitative Services at Wilmington Trust Investment Advisors.
"I am honored to have had the opportunity to speak with Maryland's bankers and industry leaders again this year," said Anirban Basu, a returning presenter. "I hope that each and every attendee learned something valuable from our experts here today that they can take with them into the new year."
Julie Weaver, Executive Director of the Maryland Council on Economic Education, provided key insights on the value of providing financial education in middle and high schools across Maryland during her luncheon address.
The keynote speaker for this year's event, Kartik Athreya, Executive Vice President and Director of Research at the Federal Reserve Bank of Richmond, rounded out the day with a discussion on what Maryland bankers and business leaders should anticipate from the economy in 2023.
"Every year at the First Friday Economic Outlook event, I learn something new and valuable from our esteemed speakers and attending business leaders," said Ramon Looby, President and CEO of the Maryland Bankers Association. "Thank you to our speakers, attendees, sponsors, and staff for making this year's Forum such a success. I look forward to continuing this wonderful exchange of ideas as we move forward together throughout the remainder of 2023."
About "First Friday"

The "First Friday" Economic Outlook Forum is an annual event in Maryland that showcases economic experts who share valuable information about both current events and the future of the region's economy. This event attracts influential leaders in both the business and banking communities. Please contact Ann DeVilbiss at adevilbiss@mdbankers.com for more information.
About the Maryland Bankers Association

Founded in 1896, the Maryland Bankers Association (MBA) is the only Maryland-based trade group representing banks in the state. MBA's member banks employ 28,266 banking professionals in nearly 1,490 branch offices across the state. To find out more information, please visit http://www.mdbankers.com.
Share article on social media or email:
Source: news.google.com