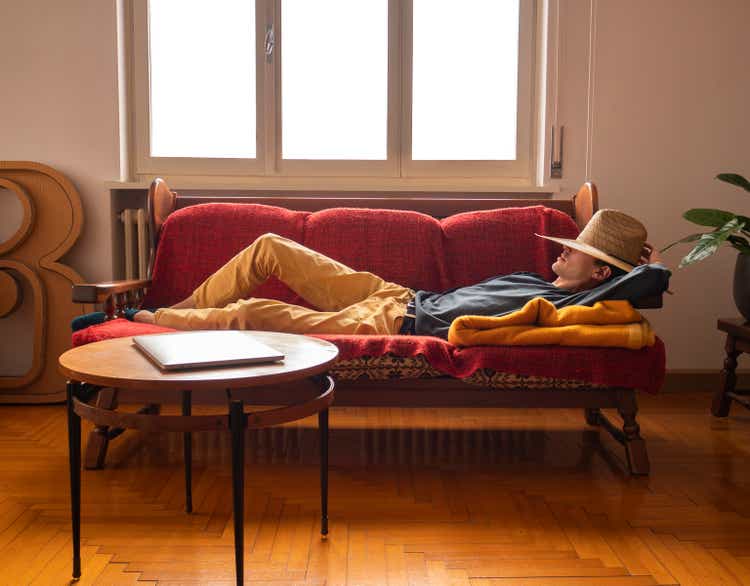 December 2022 Passive Income
S&P 500 12 Month Total Return -18.11% for Dec 2022
S&P/TSX Composite Index 12 Month -4.32% Dec 2022
A new year has come. Man, oh man, did 2022 ever fly by. The market continues its downward spiral, and we can see even better prices out there for long-term investors. I think this will continue for at least the first half of 23, but who knows. Energy, Inflation and higher interest rates continue to hurt and increase people's cost of living, but the governments continue to print money – devaluing our dollars. This could lead to even higher stock prices in dollar terms.
We continue to dollar cost average into quality dividend stocks, while also putting some cash aside for the end of the winter. (I've mentioned how I think banks, REITs, etc. are going to be in for a rough winter due to economic pressures)
Alright, Let's Get To Our December 2022 Passive Income
Raises
0 Raises this month, but that was to be expected as every stock we own currently besides XAW ETF and Disney raised their dividend in 2022.
Total Added Income from Dividend Raises in 2022 – $537.09
Since our portfolio currently brings in $8,360 yearly, these raises alone added just over 7% to our income during 2022. This is the power of dividend growth investing. Moving forward, I plan on adding more or beefing up lower yielding/ higher dividend growth positions in the portfolio. Let's see if we can surpass 7% at the end of 2023.
December 2022 Dividend Income
12 Companies paid us this month.
Stocks
December 2021 Income
December 2022 Income
3M (MMM)
32.56 USD
sold
Canadian Utilities
95.00 (2 Drips)
sold
Smart Centers
33.30 (1 Drip)
sold
Manulife Financial (MFC)
59.07 (2 Drips)
sold
RIT ETF (RIT)
66.15 (3 Drips)
sold
(JNJ)
45.58 USD
75.71
Home Depot (HD)
19.00
Lockheed Martin (LMT)
89.60 USD
66.00 USD
Stanley Black & Decker (SWK)
21.60
Microsoft (MSFT)
11.78 USD
28.56
Couche-Tard (OTCPK:ANCUF)
7.48
23.80
Canadian National Railway (CNI)
59.04
79.84
Franco-Nevada (FNV)
0
5.22
Brookfield Renewable (BEP)
87.81 (1 Drips)
118.44 (3 Drips)
Suncor Energy (SU)
84.42 (2 Drips)
213.72 (5 Drips)
Fortis (FTS)
0
128.82 (2 Drips)
Enbridge (ENB)
242.15 (3 Drips)
259.72 (3 Drips)
Totals
913.94
1,040.43
13 stocks Dripped in December.
After last month's single drip, it's nice to see more stocks dripping. Brookfield Renewable stands out as last year it only had 1 drip and here, we are close to 4 drips. I may add to this position to get it next time.
Our Drips (Dividend Reinvestment Program) added a monster $30.79 in future dividends.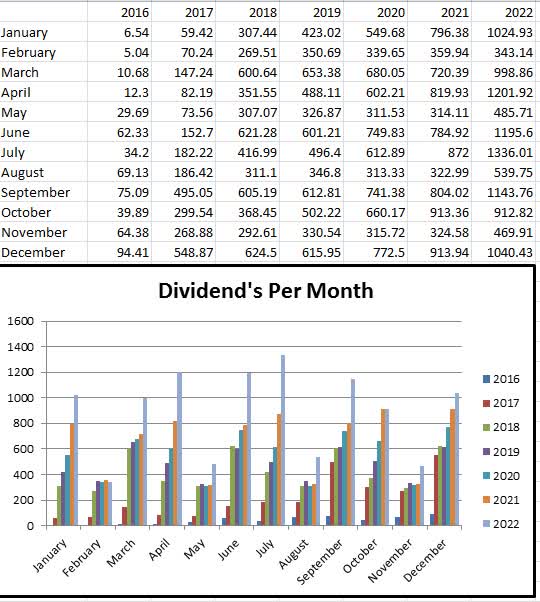 Other Income
Private Investment Payment – $1000.00
1k a month, Straight to the HELOC.
Solar Panel Income
In November (we always get paid a month later), our solar panel system generated 215.38 kWh. Since we bring in a fixed rate of 28.8 cents per kilowatt hour, Hydro One deposited $61.96 into our checking account this month.
Last November, the system generated $66.79, so we are slightly lower. Winter months for solar definitely don't do much.
| | |
| --- | --- |
| Total Income for 2022 – $2,287.07 | |
| System Installed January 2018 | |
| Total System Cost | $32,396.46 |
| Total Income Received | $12,172.29 |
| Amount to Break even | $ –20,224.17 |
Clearly, we can see these yearly numbers slowly decrease, is it the panels or is our tree just growing so much it's blocking them more and more? I don't know. I keep debating topping the tree back a bit, maybe 5-10 ft?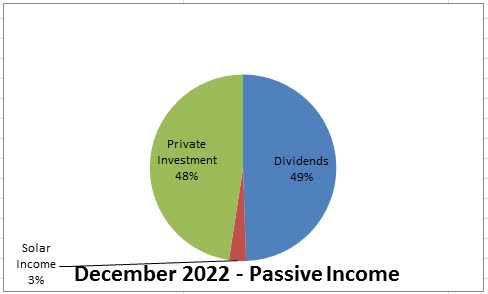 Total December 2022 Passive Income – $2,102.39
December 2021 Passive Income – $1,480.73
Year over year we see an increase of $621.66 in passive income this month or a 41.98% growth rate. Sweet. A great end to the year.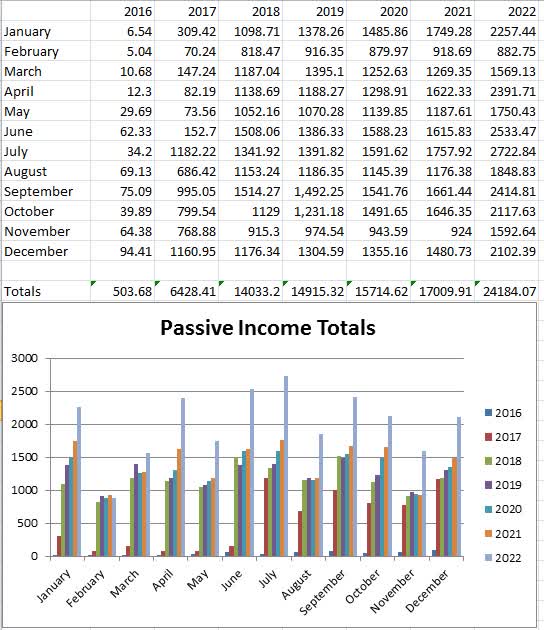 | | |
| --- | --- |
| Totals For 2022 | |
| Dividends Year To Date Total | $10,692.84 |
| Other Passive Income Year to date | $13,491.23 |
| Total Passive Income for 2022 | $24,184.07 |
| Year End Goal | $25,000 |
We fell short of our goal for the year, but we also did change our strategy when interest rates showed no signs of slowing down. You can read about that here. At the end of 2021 we tallied up our total passive income, and it sat at $17,009.91. I'll happily take an extra $7,000 year-over-year increase to our passive income. It kind of blows my mind how much it has grown in only 7 years. Moral of the story – start investing now.
December Stock Purchases/ Sales
Let's start this off with 1 sale.
Franco-Nevada
We have already sold our position in Franco Nevada. This one just ran up so fast from when I bought it and at over 194 per share, I didn't see us wanting to add to the position. We bought 12 shares Sept 8 for 158 per share, so we locked in a 24% gain in roughly 4 months. This sale lost $15.36 in forward income.
TD Bank
This is a stock I always liked, but sold off when I deleveraged the portfolio. I continue to think bank stock prices will get hurt moving forward, but wanted to start averaging back into our position after they announced that 8% dividend raise in November. The proceeds of the Franco-Nevada sale and new cash were used here.
We bought 44 shares of TD Bank at $86.33 per share. Now you may be wondering, but Rob, you sold your position in TD before at 84.90 per share. That's a bad play. Yes, in the short term it is, but like I mentioned above I think we will get TD even cheaper in 2023. I sold 194 shares; this purchase is only a quarter of what I had. I'm just starting to average back into our position.
This purchase added $168.96 to our forward dividends.
In total, we added $153.60 in future passive income this month.
Bitcoin
Part of the reason for my sale of Franco Nevada was that I'm also hedging against the dollar with our bitcoin position. As I've stated before, this is purely a speculative investment, and I won't be throwing large stacks at it.
My plan for bitcoin is 100 to start, and 20 bucks added every week. I'll update how things are going every month.
Total invested – $230
Financial Goals Update
Charities
We continue our monthly donation to The Nature Conservancy of Canada of $85.
Increase Dividends by $4285.81 this year (bringing our forward income from dividends to $13,000 a year).
Unfortunately, I'm going to disregard this now. While we could have been really close to hitting this, things changed. I'm not as bullish on the market and with interest rates doubling in 6 months (and still growing) I decided to pay off all our HELOC which we used for investing. As long as the forward passive income is higher at year-end vs last year, it's all good!
Etf Monthly Minimum Purchase of $250
This month, we added 6 more units of XAW ETF.
Questrade is great because it offers free ETF trades and cheaper stock trading options than most Canadian brokers. $250.00 a month would kill us if we needed to pay high trading fees.
December 2022 Passive Income Conclusion
It's safe to say that 2022 was a great year on the passive income front. Overall, it increased by quite a bit. As we start 2023, it's time to once again reevaluate the portfolio and the moves we are making. I plan on continuing to increase the overall growth portion of the portfolio. The higher yielding companies tend to always be the ones that you question. Meanwhile, the lower yielding ones increase their dividend significantly and the stock price climbs as well.
Wish you all nothing but peace, love, happiness, and health in 2023. May it bring you everything you truly want.
---
Attract what you expect, reflect what you desire, become what you expect, mirror what you admire – Unknown
---
Editor's Note: The summary bullets for this article were chosen by Seeking Alpha editors.
Editor's Note: This article discusses one or more securities that do not trade on a major U.S. exchange. Please be aware of the risks associated with these stocks.
Source: news.google.com