PHOENIX – A suspect in Arizona faces federal charges for his alleged involvement in a romance scam, defrauding victims for millions of dollars and authorities say there could be others.
You may think to yourself, "That could never happen to me," or, "Why would anyone give away hundreds, thousands, even hundreds of thousands of dollars, to a complete stranger?"
The truth is, in 2021 alone, romance scam victims reported about a billion dollars in losses according to the FBI.
Our research into the love con leads us to Kingsley Ibhadore.
FOX 10 Investigator Justin Lum confronted him, asking, "Hey, you Kingsley?"
He replies, "Yes."
"Hey, Kingsley. I'm Justin Lum with FOX 10. Can we talk to you about your recent case regarding romance scam victims?"
"Oh no," a woman behind him said. "Absolutely not."
"Are you sure? We just wanna get your side of the story, Kingsley."
He declined to talk and closed the door.
Multi-million dollar allegations
Indicted last October on several federal charges, Ibhadore is accused of conspiracy, transactional money laundering, and false use of a passport.
The U.S. Secret Service investigated him and says he received almost $3 million in a romance scheme.
"That's a fairly substantial number," said Scott Windish, putting it lightly. He's the acting Special Agent in Charge of the U.S. Secret Service in Phoenix.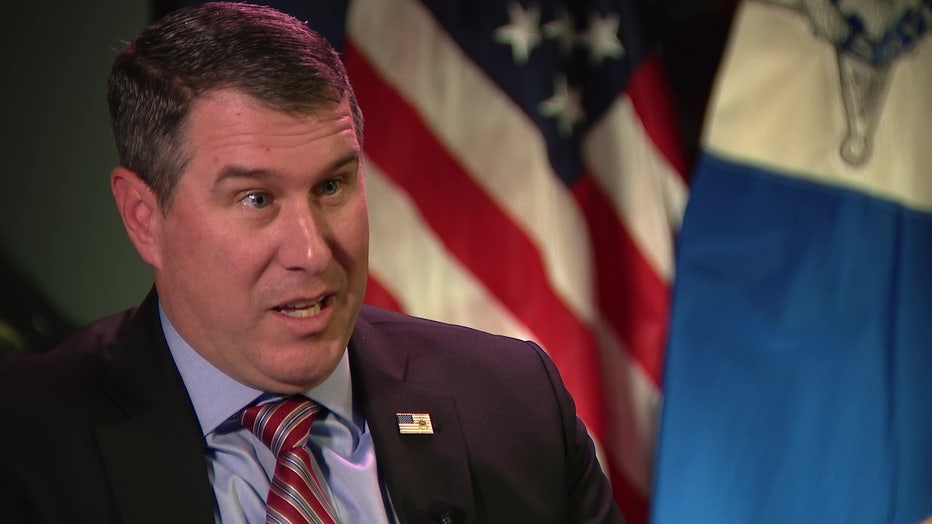 Acting Special Agent in Charge for the U.S. Secret Service in Phoenix, Scott Windish
"Kingsley Ibhadore's alleged, through the indictment, to have established some bank accounts using various names, received money, immediately withdraw that money and forward that on to other accounts," Windish said.
Ibhadore immigrated to the U.S. from Nigeria in 2016.
Between 2018 and 2019, court documents say he opened 24 bank accounts through Bank of America, Chase, Wells Fargo and BBVA Compass, using different aliases and fake passports. Some names he'd use – Barry Bhoye, Celestin Cheick, Simone Diakite and Celestin Emmanuel.
The indictment reveals romance scam victims sent Ibhadore checks payable to those names. Investigators say he deposited the checks – some amounts as much as $100,000 before withdrawing cash and transferring funds to accounts in Turkey and Nigeria.
Windish believes Ibhadore is part of a larger conspiracy with more potential victims out there.
"There are $2.95 million. Each victim did not lose $300,000. Some were only $30. Some were $60. Some were $100 or $200,000," Windish said, breaking down some of what the transactions amounted to.
Change of heart?
Online dating can be a digital fantasy land, but as people look for love and venture into the unknown, hoping to find their soulmate, they can be fooled by a catfish.
Merriam-Webster defines "catfish" as "to deceive (someone) by creating a false personal profile online."
A source says Ibhadore used Match.com and OurTime.com to find an older demographic.
"They're being preyed upon. They're desperate. They are either widowed, widowered, they're lonely, and they've finally found someone who gives them positive attention," Windish says.
What's his strategy on the other side of the screen?
To get insight, we get set up with "Chris," a self-proclaimed reformed romance scammer. We're keeping his name private.
From Nigeria, he spoke with us via video chat, explaining how he's conned unsuspecting people.
Below is a conversation with Chris.
Q: "So, you have a checklist? You're looking for a woman who's what, in their 50s, 60s?"
A: "Yeah."
Q: "And lonely?"
A: "Yeah."
Q: "They want attention?"
A: "They want … yeah."
A: "I'll spend hours and hours in our post conversation. I'm talking about five, six, seven hours."
Once a "relationship" is established, Chris says that's when to capitalize.
A: "If I'm going to ask for money, the first thing I will ask for is my internet connection. I get very bad connection, so I need to pay for internet connection so maybe the first time I get $300."
Q: "What's the most you've ever gotten?"
A: "The most I ever got was $15,000 at once."
Chris says he couldn't keep up the act.
"I felt this kind of guilty conscience, you know? I'm a human. I'm a human and I just felt like I would not want someone to do this my mom. Her kids don't even talk to her anymore because of me," he said.
'They're absolute cowards'
Some victims are never romanced at all. Instead, used for their image and likeness.
Kayla Manthey is in the military – but she's not looking for love online.
"It wasn't until I saw my image pop that said "Military dating singles" that things really started taking off in the wrong direction," she said.
For the past six years, she's flagged countless fake accounts using her photos.
"I think that they're absolute cowards for even using my images and not having any remorse to it at all," Manthey said.
Catfishing victims who somehow find her real accounts and contacting her.
"Boyfriends, girlfriends, it was all over the place, and it was people who were very upset and angry because they had been scammed out of hundreds of dollars, thousands of dollars," she said.
Trying to explain she has no involvement is exhausting. But what's even more concerning?
"When my mom said that people were contacting her and driving by or showing up, that's when I got really nervous," Manthey said.
Manthey cautions people to look out for red flags.
"What does the grammar look like? We're in an age of technology. Can this person FaceTime? Have you had a conversation? And if it doesn't seem right, it's probably not right," she said.
How to identify a scammer
As for Ibhadore, his trial is set for this April. His release conditions say his location must be monitored as well as his internet activity.
Investigators believe the indictment is a major hit to the web he's believed to be linked to.
"You might have someone at the top that's conducting the scheme, whether it's Kingsley or not, to take away any part of any criminal enterprise. The top to the middle," Secret Service Agent Windish said. "They then have to find a way to fill that void."
Here's what you can do to prevent being catfished and scammed.
SocialCatfish.com helps you do a reverse image search to verify online identities.
Here are the top three signs you're being catfished:
They seem too good to be true

They fall in love with you having never met you

They're asking for money or gift cards
Source: fox10phoenix.com