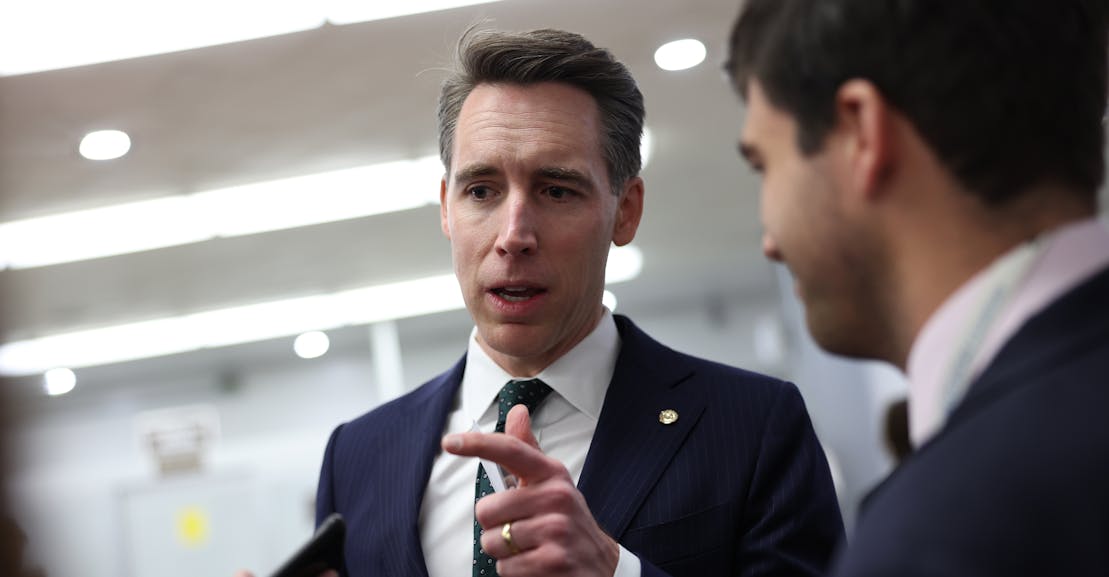 "No more drilling on federal lands. No more drilling, including offshore. No ability for the oil industry to continue to drill. Period. Ends."

That was Joe Biden's promise in 2020. He again repeated the promise two days before the 2022 midterms.

And now, on Monday, Biden's administration formally approved Willow, a massive oil drilling project in Alaska. The $8 billion project spearheaded by corporate giant ConocoPhillips is slated to produce over 600 million barrels of crude oil over 30 years, which will produce the equivalent of roughly two million cars' worth of carbon pollution every year.
The project is set to infiltrate one of the country's largest expanses of public land.
Last week, former Vice President Al Gore said it would be "recklessly irresponsible" for Biden to sign off on the project. "The pollution it would generate will not only put Alaska native and other local communities at risk, it is incompatible with the ambition we need to achieve a net-zero future."
And Gore, who warned in his An Inconvenient Truth about how the climate crisis necessitates us "having to change the way we live our lives," is certainly not alone.
"Instead of sticking to his own goals and listening to the millions of young people who carried the party for the last three cycles, President Biden is letting the fossil fuel industry have their way," said Sunrise Movement executive director Varshini Prakash, who noted that Willow will emit more pollution annually than 99.7 percent of all single-point sources in the country.
Other environmental activists had similar words of condemnation for the project, which is expected to be challenged in court.
"Biden approved Willow knowing full well that it'll cause massive and irreversible destruction, which is appalling," said Kristen Monsell, a senior attorney at the Center for Biological Diversity. "People and wildlife will suffer, and extracting and burning more fossil fuel will warm the climate even faster. Biden has no excuse for letting this project go forward in any form. New Arctic drilling makes no sense, and we'll fight hard to keep ConocoPhillips from breaking ground."
"Today's decision completely contradicts not only the administration's climate goals but also its commitment to consider Traditional Ecological Knowledge in federal policymaking," said Jade Begay, director of policy and advocacy at Indigenous advocacy organization NDN Collective. "The Native Village of Nuiqsut has repeatedly voiced their concerns around how the project will impact local ecosystems—including caribou, which they rely on for subsistence. This immoral decision will have devastating impacts on the livelihood of the people of Nuiqsut and beyond."

Just last year, a monthlong natural gas leak from Conoco's oil drilling near Nuiqsut, Alaska, prompted hundreds of people to evacuate. Now the company is marching back into the area for an enormously wider mission.
Meanwhile, the Biden administration announced Sunday it would ban drilling or (mostly) limit drilling in other parts of Alaska and the Arctic, ostensibly as an attempt to soften the blow of completely flipping on Biden's pledge not to allow further drilling into our earth.

"It's insulting that Biden thinks this will change our minds about the Willow project," said Monsell. "Protecting one area of the Arctic so you can destroy another doesn't make sense, and it won't help the people and wildlife who will be upended by the Willow project. We need to protect the entire Arctic and stop building massive oil and gas developments that will contribute to greenhouse gas emissions for years to come."
Actor Ke Huy Quan highlighted his background as a refugee while accepting an Oscar for Everything Everywhere All at Once, even as the U.S. government moves to block people with similar backgrounds from entering the country.
Quan won best supporting actor Sunday night for his role in the indie breakout film as Waymond, the patriarch of a Chinese American family trying to keep it together when they are transported on an adventure across universes. He acknowledged his own immigration story in his acceptance speech.
"My journey started on a boat. I spent a year in a refugee camp, and somehow, I ended up here," Quan said tearfully. "They say stories like this only happen in the movies. I cannot believe it's happening to me. This, this is the American dream!"
Quan was born in Vietnam in 1971. Seven years later, his family fled the country, and he, his father, and some of his siblings stayed in a makeshift refugee camp in Hong Kong for a year. Quan's entire family was able to reunite in 1979 when they moved to Los Angeles under the Vietnamese refugee resettlement program.
His historic turn as the second Asian person* to win the best supporting actor Oscar comes just a month after the Biden administration unveiled a sweeping and strident new immigration policy that could prevent other stories like Quan's from happening.
Joe Biden unveiled the new rules in February. The convoluted policy prevents adults or families from receiving asylum in the U.S. if they traveled through another country en route and did not apply for (or were denied) asylum there. The new process to apply for asylum requires multiple steps that are neither obvious nor simple, as well as the use of a phone app that is poorly designed and glitchy.
Democrats slammed Biden and the policy, with many branding it no better than the measures seen under Donald Trump. Since the new rules were announced, the Biden administration has also been reportedly considering other draconian immigration measures, including reviving the Trump-era family detention policy.
Biden's asylum policy is not an exact comparison to Quan's situation, but it will still cut off people who are fleeing dangerous situations from reaching a stable environment. The policy also addresses the immediate concerns of current high immigration levels, instead of trying to address the broader issues creating the need to seek asylum in the first place.
It's worth noting that in Quan's case, the instability in Vietnam was because of the Vietnam War, which dragged on as long as it did partly because of U.S. involvement.

It's also worth noting that Quan's win has been touted as an underdog victory and a movie-worthy comeback—that came as a result of Hollywood shutting him out. After achieving success as a child actor, Quan couldn't get a single mainstream Hollywood role. He left the U.S. entertainment industry for almost three decades before getting cast in Everything Everywhere All at Once.
And then, after filming wrapped but before the movie came out, Quan wasn't cast in anything else. All of the much-deserved praise and new roles he is getting now came after Everything Everywhere was released.
In this way, Quan's comeback story and Biden's immigration policy perfectly demonstrate how good the U.S. can be at shutting out immigrants until they are deemed worthy.
* This article originally misstated the historical significance of Quan's Oscar win.

Make no mistake: Just like train derailments, climate disaster, and most crises in society, barefaced deregulation was the antecedent to the collapse of Silicon Valley Bank.
On Friday, the major lender for tech startups was shut down by regulators. The commercial bank, among the 20 largest in the country, was caught in a free-fall bank run. Some of it seemed set off after a letter from SVB's CEO Greg Becker, describing to shareholders a $1.8 billion loss on the sale of U.S. treasuries and mortgage-backed securities; high interest rates backgrounded the letter. Peter Thiel, a massive backer of the likes of J.D. Vance and Blake Masters, had his venture capital firms direct all their portfolio companies to withdraw their funds from the bank.

And then the floodgates burst open.
When all was said and done, $42 billion was withdrawn from SVB on Thursday. California's Department of Financial Protection and Innovation seized the bank the following day, finding it insolvent and "incapable of paying its obligations as they come due."
While Biden now attempts to relieve strain on depositors, while not placing burden on the rest of the public (i.e., not gratuitously bailing out the rich at the expense of everyone else), it's important to understand how we got to this crisis in the first place.
In May 2018, Donald Trump signed into law a bill rolling back Obama-era Dodd-Frank regulations enacted to take on "too big to fail" financial institutions in the aftermath of the Great Recession. The bill was pushed through the Republican-controlled Congress—with the help of 17 Democrats in the Senate and 33 Democrats in the House.

The rollback raised the asset threshold for banks subject to enhanced scrutiny, like stronger regulations and stress tests, from $50 billion to $250 billion. As The Lever reported, SVB CEO Greg Becker had been lobbying for this change for years. SVB had just passed $50 billion in assets at the time Trump changed the regulations.

By December 2022, SVB had $209 billion in assets—below the $250 threshold but evidently enough to have certainly necessitated some form of oversight and testing to see if it could survive the type of run that just occurred.
What's telling is how weak the conservative response has been. Venture capitalist libertarian tycoons clumsily beg for bailout funds despite their supposed disdain for government expenditure. Ron DeSantis, who voted to roll back Dodd-Frank in 2018, is now among the Republican chorus blaming the bank collapse on diversity and wokeness. In each increasingly frequent social crisis, the culprit is almost always deregulatory conservatism; not only are more and more people coming to understand Republican politics as socially untenable—it is being revealed as practically unjustifiable too.
One of the directors of indie breakout film Everything Everywhere All at Once slammed growing Republican attempts to ban drag performances during one of their many acceptance speeches at the Oscars ceremony.
The multiverse-spanning film about martial arts, mental health, and family ties swept the Oscars Sunday night, racking up seven wins that included some historic victories in the best actress and best supporting actor categories.
When accepting the award for best directing, Everything Everywhere All At Once directors Daniel Kwan and Daniel Scheinert (referred to as "the Daniels") called out the importance of community for creativity.
"We want to dedicate this to the mommies, all the mommies in the world," Scheinert said. "To our moms, specifically my mom and dad, Ken and Becky. Thank you for not squashing my creativity when I was making really disturbing horror films, or really perverted comedy films, or dressing in drag as a kid, which is a threat to nobody."
Scheinert's comment was met with cheers throughout the audience. He was referring to the more than 20 bills attacking public drag performances being considered in state legislatures throughout the United States. Tennessee recently became the first state to pass one of these bills into law.

On a larger scale, Republican-led states are cracking down on LGBTQ rights, from the drag bans to prohibiting gender-affirming care for minors and removing books featuring LGBTQ characters from school libraries.
One of the storylines in Everything Everywhere All at Once is about matriarch Evelyn, played by Michelle Yeoh, coming to terms with her daughter Joy's (Stephanie Hsu) sexuality.
Kwan also highlighted how important a community is to creating art. "The world is opening up to the fact that genius does not stem from individuals … but rather, genius emerges from the collective," he said.

"We are all products of our context. We are all descendants of something and someone."
A Texas man is seeking more than $1 million in damages by suing three women who helped his ex-wife terminate her pregnancy.
Marcus Silva of Galveston County alleges that, after his then wife learned she was pregnant in July 2022, she conspired with two friends to illegally obtain abortion pills to end the pregnancy, The Texas Tribune reports. Roe v. Wade was overturned in June 2022, triggering Texas's ban on abortions with narrow exceptions.
Current state law allows any private citizen to sue anyone who "aids or abets" an abortion after about six weeks of pregnancy. Claimants can receive $10,000 in damage for each such case, incentivizing an essential witch hunt by residents to snitch on people who seek abortions. Silva's lawsuit reportedly is the first filed under the law.
Silva alleges that his then wife had received information about Aid Access, an organization that provides abortion medication by mail in and outside of the United States. The lawsuit cites text messages showing the two women finding access to the medication in Houston, where the women resided.
The lawsuit alleges a third woman delivered the medication to Silva's wife, and cited text messages indicating that she proceeded to carry out the abortion at home.
The couple, who have two daughters, divorced in February.
Silva's lawsuit is pursuing a wrongful death case, arguing that the three women who assisted his ex-wife's self-managed abortion are culpable for murder under state law. Former Texas Solicitor General Jonathan Mitchell, the credited architect of Texas's restrictive abortion ban, is representing Silva.
Mitchell also wants to add the abortion pill manufacturer as a defendant once it is identified, the Tribune notes. Along with the over $1 million Silva seeks, the lawsuit is pursuing an injunction to stop the defendants from distributing abortion pills in the state.
While President Biden's budget proposal calls for expanding services, from childcare and universal pre-kindergarten to Medicare, an extremist group of House Republicans countered with their bargaining terms for agreeing to raise the debt ceiling: Cut, cut, cut.
The House Freedom Caucus released their demands on Friday, calling to slash Biden's plan to relieve over 40 million people from student debt burdens, rescind unspent Covid-19 funds, cut climate change funding and $80 billion for IRS enforcement, and cap future spending for the next decade at 2022 levels.
The radical proposal also calls to restore work requirements on welfare programs and restore nondefense discretionary spending to pre-Covid levels. And it ambiguously calls to end "federal regulations and subsidies" in order to increase domestic energy production.
The debt ceiling is the limit to how much the government can borrow to pay for spending that Congress has already approved. Congress has to raise the ceiling by the summer in order to avoid potentially defaulting, which would cause a massive crisis that could upend the global economy. On Friday, Treasury Secretary Janet Yellen warned the House Ways and Means Committee that such a crisis has never happened before and its occurrence would "trigger an economic and financial catastrophe."
The House Freedom Caucus has outsize influence over the party direction. It forced Kevin McCarthy to concede to an array of demands in exchange for support for his speakership bid. Since then, McCarthy has had to tread somewhat lightly between the ultraright caucus and the rest of his party.
Republicans have been unified in their opposition to a simple raise of the debt ceiling and have demanded that Democrats accept cuts to spending instead, but the party has not come to a consensus around the nature of those cuts.
While McCarthy and most Republicans are happy to cut spending, the House Freedom Caucus's demands may be a bridge too far for some members, politically. Even if McCarthy and other Republicans somehow bless the House Freedom Caucus's proposed cuts, the package would likely be dead on arrival in the Democratic-led Senate and would certainly be vetoed by Biden in any case.
The president, after all, has been adamant that he won't negotiate over the debt ceiling. "I don't know [if] there's much to negotiate on," he said on Friday.
Silicon Valley Bank, a major lender for tech startups, was shut down Friday by California regulators.
SVB was struggling to raise enough funds to offset a nearly $2 billion loss on bond sales. Customers worried that the bank would collapse entirely and rushed to withdraw their funds, further destabilizing it.
The California Department of Financial Protection and Innovation swooped in and closed the bank Friday morning, putting the Federal Deposit Insurance Corporation, or FDIC, in charge of SVB's assets.
The FDIC announced that SVB's branches will reopen Monday, and insured customers will be able to access their deposits then.
Here is a look at what happened to Silicon Valley Bank.
1. What is Silicon Valley Bank?

Silicon Valley Bank is the sixteenth-largest bank in the United States. It primarily operates in Northern California and thus is relatively unknown outside of Silicon Valley.
However, the bank partnered with nearly half of all venture-backed technology and life sciences companies in the U.S. Silicon Valley Bank lent to higher-risk startups that have taken a hit from the Federal Reserve's high interest rates as well as decreasing venture capital investment.
2. What went wrong?
Silicon Valley Bank announced Wednesday evening that it needed to raise more than $2 billion. It outlined a plan to do so that included selling $1.25 billion in common stock, which are shares that give holders voting rights, and $500 million in convertible preferred shares, which do not give the holder voting rights.
SVB also said that investment firm General Atlantic had agreed to a deal to sell $500 million in common stock.
But SVB's customers were apparently not appeased by the plan, and the bank's stock value has plummeted at least 60 percent since then.
3. What caused the collapse?
The Fed has hiked interest rates aggressively over the past year to try to bring down record-high inflation. The higher rates caused venture capital investments to shrink, while the bank's clients used up cash much faster than before due to price increases. As a result, SVB's startup customers had far less money to deposit.
To make up for its cash losses, SVB sold $21 billion in securities—but at a $1.8 billion loss, prompting the plan to sell off shares and stabilize itself with the new funds.
Instead, investors panicked and began withdrawing their money from the bank. This created a vicious feedback loop, where the bank appeared increasingly unstable and unsustainable, prompting more customers to take out their money.
4. What was the bank trying to do?
SVB was in talks to sell itself, right up until regulators took over, after its attempts to raise more cash failed. Several large financial institutions were reportedly considering purchasing the bank.
But because so much money was flowing out as customers withdrew their funds, it was difficult to assess SVB's value anymore, making it less appealing to any potential buyers.
5. Why is this important?
Investors are worried that SVB's troubles are a bellwether of what is to come for the rest of Silicon Valley, and the financial sector at large. The day before SVB announced its fundraising plan, cryptocurrency lender Silvergate Capital Corp said it would be shutting down, rattling the market. Shares in other banks fell Thursday as concerns over SVB grew.
The high interest rates mean that other banks that attempt to sell off bonds to make fast cash will be forced to do so at a loss, like SVB, according to Bloomberg. If customers get nervous, banks will have to compete harder to keep them, for instance by offering higher interest rates on savings. Doing that will chip away at what the banks are able to earn for themselves.
Things will be particularly difficult for small and midsize banks, Bloomberg noted. Those institutions don't have as many funding flows, meaning they would have to sell more stock and take more hits.
Source: newrepublic.com