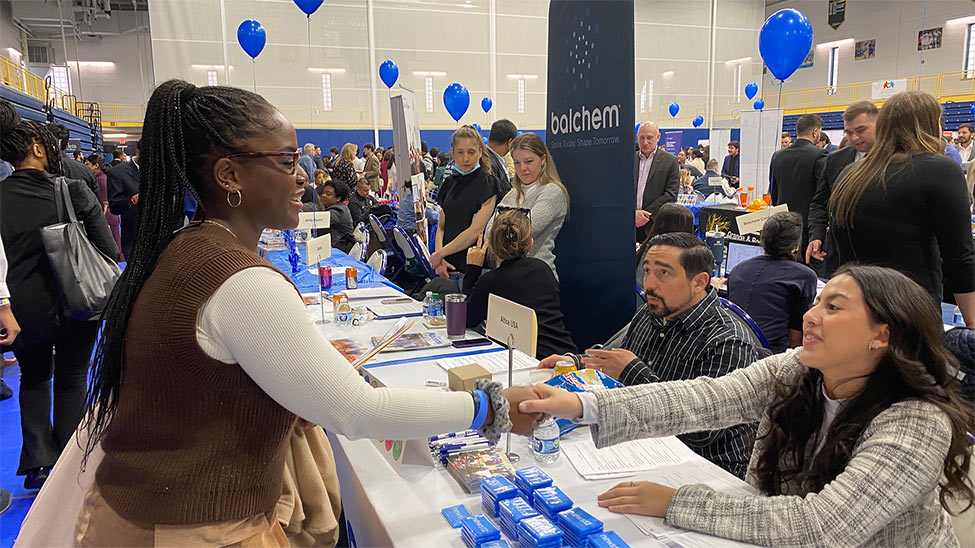 Barclays, Con Edison, and the FBI among nearly 150 recruiters
The largest Career Fair in the University's history
Pace University Career Services on Wednesday hosted its first in-person job fair since the start of the pandemic – and with record-breaking student turnout, it was the largest Job Fair in the University's history.
Hundreds of students turned out – including many from its campus in lower Manhattan — to the employment fair and over 150 companies were in attendance, including Barclays, Morgan Stanley, Regeneron Pharmaceuticals, U.S. Department of State, Internal Revenue Service (IRS), Con Edison, Deloitte, U.S. Environmental Protection Agency (EPA), Montefiore, Northwell Health, and the Federal Bureau of Investigation, among many others.
The fair was open to all majors and was sponsored by PricewaterhouseCoopers (PwC), which is among the Big Four accounting firms, offering clients various professional business services, including accounting, auditing, human resources consulting, and strategy management.
"At Pace, we understand the importance of engaging students early, bringing them into our Career Communities designed to build pre-internship skills and experiences, and leveraging our relationships to help them get those internships and jobs," said Phyllis Mooney, assistant vice president of Career Services at Pace University. "For Bachelor graduates in the Class of 2021, students were over 15% more likely to work in their field of study if they engaged with Career Services and had an internship than if they didn't."
Pace's Career Services is a leader in the region for providing a range of career counseling and programming (both virtually and in-person) to ensure that the students they serve are career-ready and know how to articulate the skills employers are looking for in their entry-level candidates. In fact, Pace's Class of 2021 exceeded national average in employment rates by 10+ percentage points, and the Class of 2022 data is trending to be just as positive.
Pace's Career Services also offers their employer partners a tailored, successful recruiting experience that introduces recruiters to talented students that represent the very best of Westchester, the New York City region, and the world—resulting in extraordinary outcomes. Some top companies that employ Pace students include Deloitte, EY, KPMG, Montefiore, NewYork-Presbyterian, Northwell Health, NYU Langone Health and PwC.
For Josiah Jones, a junior majoring in business management, the packed room provided ample opportunities to land a job or an internship.
"Having this in-person is important," said Jones, noting that Pace's Career Services is one of the University's distinguishing advantages. "It's important for employers to see us in-person so that you can showcase your personality, charisma, and communications skills."
"As a transfer student, I'm really loving it," Jones, of Virginia, added. "I'm getting every opportunity out of my experience here and Pace is delivering."
Melissa Louis, a communications major with a minor in sports media broadcasting, was impressed that there were employers for all career paths and interests.
"There are so many opportunities," she said. "There are so many people and potential employers … Career Services is a great program. It's nice to get past COVID and it's great to see so many people in-person."
Chiara Priarone, a graduate student from Italy who is studying financial risk management, took Pace's shuttle bus from Manhattan to seek out opportunities in her desired field.
"It's nice to see all of these people," she said, "and to experience this great energy."
About Pace University
Since 1906, Pace University has educated thinking professionals by providing high quality education for the professions on a firm base of liberal learning amid the advantages of the New York metropolitan area. A private university, Pace has campuses in New York City and Westchester County, New York, enrolling nearly 13,000 students in bachelor's, master's, and doctoral programs in its Dyson College of Arts and Sciences, Lubin School of Business, College of Health Professions, School of Education, the Elisabeth Haub School of Law, and Seidenberg School of Computer Science and Information Systems.
Source: pace.edu