It's going to be yet another first. The World Bank is likely to get an Indian-American head. Ajay Banga was nominated by US president Joe Biden last month for the post. Nominations closed on Wednesday and no country has publicly proposed an alternate candidate, according to a report by Bloomberg.
The 63-year-old will be the first Indian-origin chief of the anti-poverty lender if confirmed.
Banga was nominated after the current president David Malpass decided to step down almost a year before his five-year term will end. An American banker, he will leave on 30 June. Malpass was picked in 2019 by the then US president Donald Trump. He won the post unopposed.
The top job at World Bank has always gone to a US candidate.
According to Bloomberg, while no country other than the US has picked a candidate, World Bank rules allow member nations to make nominations without making them public. However, this has to be done within the window that closed Wednesday.
The rise of Ajay Banga
Banga is a veteran in the finance and banking sector. He was born to an Indian Army officer. While the family roots can be traced to Jalandhar in the north Indian state of Punjab, Banga was raised in Maharashtra's Pune where his father was posted.
He was an economics student at Delhi's prestigious St Stephen's College and then went on to study at the famous Indian Institute of Management, Ahmedabad.
Banga started his career in India. One of his first jobs was at Nestle in 1981 after which he joined Pesipco and Citigroup. He was also the president and chief executive officer of Mastercard, the financial services company headquartered in New York. After 12 years at the helm, he retired in December 2021. At Mastercard, he helped 500 million unbanked people join the digital economy, averted layoffs of 19,000 employees during the pandemic, and led work on climate, gender, and sustainable agriculture.
During his time at Mastercard, he met Prime Minister Narendra Modi in New York in 2014 and the two reportedly discussed India and its growing influence in the American business community.
For his commitment and contribution to the financial services sector, he was awarded a Padma Shri, the fourth highest civilian honour in India, by the country's president in 2016.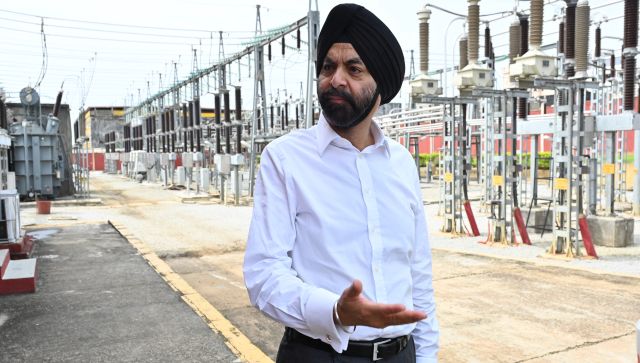 He was also a member of US president Barack Obama's Commission on Enhancing National Cybersecurity. He has worked closely with US vice-president Kamala Harris as the co-chair of the Partnership for Central America. He was a founding trustee of the US-India Strategic Partnership Forum, a former member of the National Committee on United States-China Relations, and chairman emeritus of the American India Foundation, a non-profit supporting development work in India.
Banga is an honorary chairman of the International Chamber of Commerce and has been on the boards of the American Red Cross, Kraft Foods and Dow Inc, according to a White House briefing.
His most recent stint was as vice chairman at General Atlantic, a private equity company. His focus was primarily on General Atlantic's climate-focused fund, BeyondNetZero.
Backed by the US, France, Germany
While nominating Banga, Biden described Banga as "uniquely equipped to lead the World Bank at this critical moment in history". "Raised in India, Ajay has a unique perspective on the opportunities and challenges facing developing countries and how the World Bank can deliver on its ambitious agenda to reduce poverty and expand prosperity," he said in a statement.
He has "critical experience mobilising public-private resources to tackle the most urgent challenges of our time, including climate change", Biden's statement added.
US treasury secretary Janet Yellen said Banga's experience "will help him achieve the World Bank's objectives of eliminating extreme poverty and expanding shared prosperity while pursuing the changes needed to effectively evolve the institution".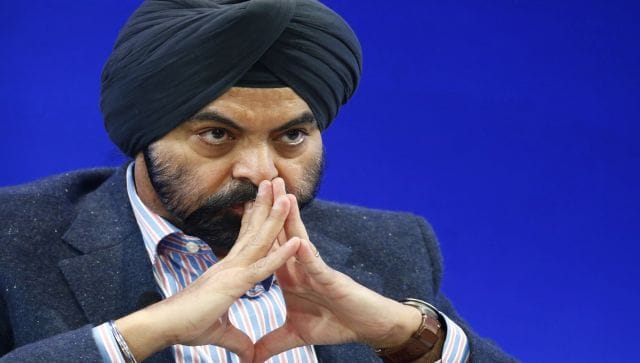 The finance ministers of Germany and France also endorsed Banga. On the sidelines of the G20 finance leaders meet in Inda, German finance minister Christian Lindner said that Banga's nomination was a "very remarkable" proposal because his private sector experience would be potentially helpful in mobilising private investment in the fight against climate change and for development projects, according to a Reuters report.
Earlier, German international development minister Svenja Schulze said the next World Bank chief should be a woman.
"I think he [Banga} is a good candidate. I need to meet him to know a little bit more about him," French finance minister Bruno Le Maire told Reuters last month.
The executive also has support from India, Ghana and Kenya.
China and Russia's reservations
While Banga received a thumbs-up from the West, India, and Africa, China appeared unsure. He visited the Asian giant on 22 March to meet officials of the People's Bank of China to seek Beijing's support for his candidature.
Ahead of the visit, China sounded doubtful about backing the Indian-American to lead the World Bank, saying it was "open" to supporting "other potential candidates" based on merit.
Asked whether China will back Banga, Chinese foreign ministry spokesman Wang Wenbin told a media briefing in Beijing that "we have noted the candidate nominated by the US side and are open to other potential candidates".
He said the World Bank is the most influential multilateral development institution in the world and is of systemic importance to global poverty reduction and development. "As a major shareholder of the World Bank, China stands ready to work with all parties for an open, transparent and merit-based presidential selection process," he added.
Russia was also considering challenging Biden's decision to nominate Banga. Roman Marshavin, the World Bank executive director who represents Russia and Syria, told Reuters in early March that the "listing of potential candidates and consultations are still ongoing," but gave no details. He said that the decision would be made in Moscow
While the World Bank has halted all programmes in Russia after the invasion, the country is still a voting member.
Laying the groundwork
After his nomination was announced, Banga spent most of last month on a global tour to creditor and borrower nations to build support for his nomination, reports Bloomberg.
He had said that he hoped to visit as many countries around the world "as logistically possible" to understand their priorities and concerns so he could "hit the ground running" if he was elected.
He visited India, China, Kenya, Ivory Coast, the UK, Belgium and Panama.
The challenges ahead
It's a challenging time to head for the World Bank. With the pandemic came an economic and social crisis.
Countries like Sri Lanka, Ghana and Zambia have defaulted on their debt. Russia's invasion of Ukraine has affected the world, as food and fuel prices rose. And global warming continues to be a threat.
"Amid this polycrisis, the World Bank is more important than ever," writes Zainab Usman, director of the Africa Programme at the Carnegie Endowment for International Peace, in Foreign Policy.
Masood Ahmed, president of the Centre for Global Development and a former senior official at the World Bank and IMF, writes in Barron's, Banga "comes with a track record of successfully managing change in large organisations and has a deep understanding of private capital markets. Both will be needed in his new role."
His appointment comes at a time when the World Bank is facing criticism from rich and developing countries. The former want the institution to look beyond poverty and focus on climate change and other global issues. The latter believe that this will come in the way of their growth agenda. Low-income countries are worried that the funds will be spent on climate projects even as they struggle to recover from the impact of the pandemic, the Ukraine war, inflation and rising interest rates.
"What's at stake is nothing less than the future of the World Bank. If he succeeds, Banga will lead the Bank through an inflection point to keep it relevant and vital for its members. If he fails, one of our most important global institutions will slide into irrelevance," writes Ahmed.
With inputs from agencies
Read all the Latest News, Trending News, Cricket News, Bollywood News,
India News and Entertainment News here. Follow us on Facebook, Twitter and Instagram.
Source: firstpost.com