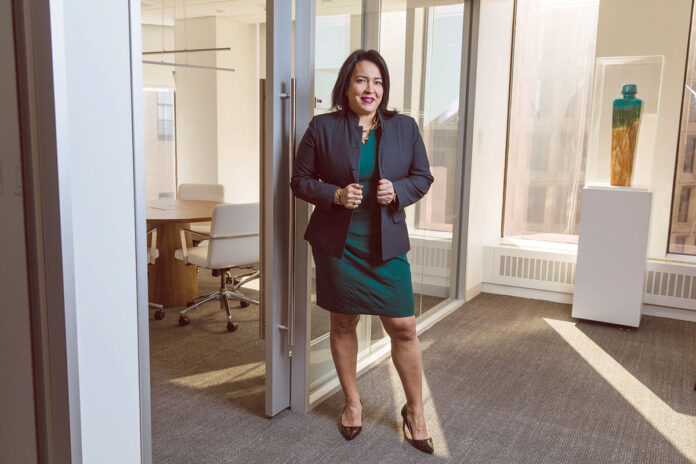 PBN 2023 Business Women Awards
FINANCIAL SERVICES INDUSTRY LEADER: Yahaira "Jay" Placencia | Bank of America Corp. senior vice president and private client adviser
---
YAHAIRA "JAY" PLACENCIA, a senior vice president and private client adviser for Bank of America Corp. in Providence, said her journey to becoming a leader in the finance world wasn't planned. She was originally studying for a medical assisting certification but was hired temporarily for a startup that provided capital for minority-owned companies.
"I loved the impact we were having in our community," Placencia said. "I saw the challenge that many small companies had, and I just fell in love with the role I played in serving these clients."
A few board members at startup Minority Investment Development Corp. encouraged Placencia to apply for a position with Fleet First Co. They'd noticed her work ethic, Placencia said, and after meeting with the hiring manager, she pursued a job with Fleet. Placencia was hired as a business development officer with First Fleet, which later became part of Bank of America.
"I got to work for our community bank and I helped 'demystify' banking for a lot of these small businesses," Placencia said. "Since then and over the years, I've grown throughout the bank and I've always felt supported by really great mentors along the way."
Placencia has now been with Bank of America for 22 years. Currently, she works at the company's Private Bank, which is part of the wealth management section. She helps families and organizations with high net worth organize their finances.
Placencia advised a "lift as you climb" approach to others who want to work on their leadership skills.
"The advice I would give others and continue to give to myself is understand that this thing we call work and life is a collaboration and an amalgamation of all the important people you serve along the way," Placencia said.
Placencia also advised continuing to learn and to step outside of one's comfort zone, as well as to remember that your only competition is yourself. She is a leader within the Hispanic Organization for Latino Achievement, including becoming its co-chair. The organization gives employees opportunities to grow their leadership skills and professional development.
Today, Placencia is the organization's executive sponsor, which means she gives advice and support to local leadership.
"This specific employee network, my involvement with them has changed my life and career path, as well. I've made some lifelong friends with this chapter, and there are numerous others who've had the same experience," she said.
Placencia serves on multiple boards and is very committed to diversity, equity and inclusion. Recently, she participated in the Leadership, Education, Advocacy and Development for Women Employee Network's annual symposium, which focused on resiliency and leadership.
"She is a true proponent of diversity, [equity] and inclusion … and recognized for her community involvement, and is a leader both within the firm and the community," Paul Anghinetti, a market executive for Bank of America Private Bank in Rhode Island and southwestern Massachusetts, said in an email. "Within Bank of America, Jay serves as a mentor and role model to others by sharing her unique perspective, broad background and encouraging others to realize their full professional potential."
Placencia, a first-generation Dominican American who grew up in Providence with little direction in life, is proud of how far she's come in her career. Placencia also volunteers for athletics and student life boards at her alma mater, the University of Rhode Island.
In her free time, Placencia enjoys spending time with her family, connecting with people and networking. Placencia says she is making an impact by inspiring younger generations and by demonstrating that anyone can make a difference by sharing their voice, being present and showing a solid work ethic.
"I'm here. After 22 years with this great organization, I am the highest-ranking Latina at Bank of America in Rhode Island," she said. "I love being able to bring my personal experience and perspective to every board I sit on and at every table I'm at."

Want to share this story? Click Here to purchase a link that allows anyone to read it on any device whether or not they are a subscriber.
Source: pbn.com