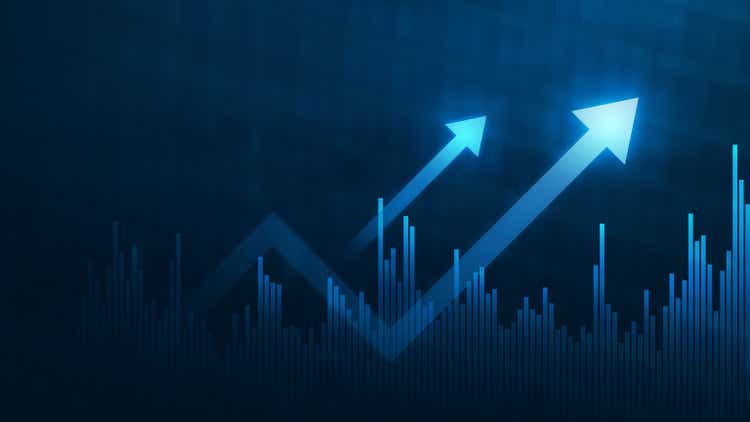 The 10 biggest market-cap stocks look attractive for active traders through the rest of the year, according to the Wells Fargo equity team.
Looking at strategies for the last four months of the year with a base case of a soft landing, they identified opportunity in the "uber caps," with an eye to rotating to low volatility at year end.
Those stocks are Apple (AAPL) up top, followed by Microsoft (MSFT), Alphabet (GOOGL), Amazon (AMZN), Nvidia (NVDA), Berkshire Hathaway (BRK.B), Meta (META), Tesla (TSLA), UnitedHealth (UNH) and J&J (JNJ).
"The group has consolidated for the last several months, setting up for a potential 'break out,'" analyst Chris Harvey wrote in a note.
"Investors are paying a ~10% premium, but in our view are receiving solid balance sheets, stable earnings, and in many cases an 'AI kicker,'" Harvey said. "Growth rates are significantly higher for the top-10 market caps vs the rest of the market."
"The group has a unique potential payout structure.," he added. "The stocks should do well during periods of economic uncertainty due to their growth, risk, and balance sheet attributes. But if there is a 'melt up' into year end, the group probably catalyzes the rally due to its index weight."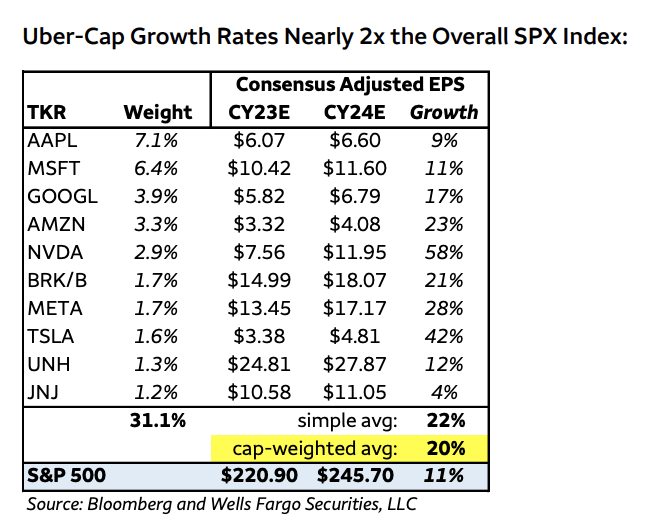 For the broader market, Wells Fargo is now using its soft landing target of 4,420 for the S&P 500 (SP500) (NYSEARCA:SPY) (IVV) (VOO) for its base case for the rest of the year.
Our "initial 4200 price target will be the floor for the final several months," Harvey said.
"We expect to be in a trading range through year-end, with the high being 4600 and the low 4200," he added. "We feel the economy will remain in an economic malaise, and question the potential veracity of a major 2024 recovery."
"We expect economic strength will be met with hawkish Fed Funds fears, and weakness will likely summon up a belief in an easing cycle. This dynamic will likely keep the market from 'breaking out' or 'breaking down' for the balance of 2024."
"Our base case is a moderate pullback on a repricing of risk with the SPX in a 5-7% drawdown. We expect the market to turn up in Sept after Fed does not hike, calendar improves, and conference season spurs 2024 optimism. Correction is a much higher probability if we retest 10yr (US10Y) (TBT) (TLT) all-in yield peak of 5.90%, but believe this is a low probability as the macro has improved."
See how rates are trading across the curve.
As alternatives to the uber-cap strategy, Wells Fargo recommends midcap growth from longer-term patient investors (MDYG) or a barbell portfolio of media and entertainment and pharma.
More on market strategy
Source: seekingalpha.com