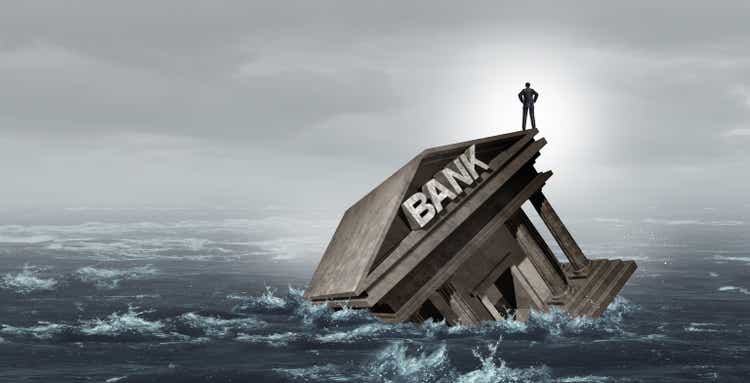 Introduction
In mid-March, shortly after the collapse of Silicon Valley Bank (OTCPK:SIVBQ), I started covering Truist Financial Corp. (NYSE:TFC). The bank – along with U.S. Bancorp (USB) – was more or less lumped in with SVB because of its significant unrealized losses in its held-to-maturity (HTM) portfolio. In my first article, I found Truist stock to be a compelling opportunity due to its solid profitability and well-diversified loan portfolio. I thought the fears of a potentially forced realization of HTM losses (which would undoubtedly put the bank's capitalization in trouble) were overblown. In a follow-up article, I took a closer look at Truist's (and U.S. Bancorp's) HTM and AFS (available-for-sale) portfolios. My third article discussed the results of the Federal Reserve's 2023 stress test, with a particular emphasis on these two "super-regionals."
Since the start of the 2023 banking crisis, USB stock has recovered some of its losses, while TFC stock is currently approaching its 52-week low. With the bank having reported its second quarter results in late July, it's a good time to revisit my bullish stance and take a closer look at some – at least superficially – worrisome trends.
Truist's Q2 Earnings, Net Interest Margin, And Deposits
Truist's Q2 results were sobering on several fronts. Not only did Truist miss analysts' estimates for revenue and adjusted earnings per share (EPS), but it also missed its own revenue guidance of $6.2 billion outlined in its Q1 2023 earnings presentation (slide 18). It also lowered its previous guidance of 5-7% adjusted revenue growth for the full year to just 1-2% (slide 16, Q2 2023 earnings presentation).
In the second quarter, Truist generated $6.0 billion in revenue, down 2.9% from the previous quarter, but up 5.1% from a year ago. For the third quarter, Truist expects a further 4% quarter-over-quarter decline in revenue. Clearly, the bank is feeling increasing pressure from higher funding costs. Truist's net interest margin declined for the second consecutive quarter, to 2.91%, the largest contributor to the decline in earnings per share (-12% quarter-over-quarter). Net interest margin is now back to 2021 levels and well below pre-merger levels (as a reminder, BB&T and SunTrust merged at the end of 2019):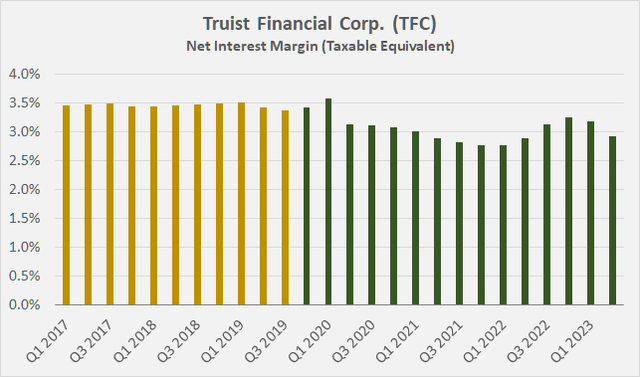 The decline in net interest margin is not unduly worrying, in my view, because the spread between deposits on the liabilities side and loans on the assets side of the balance sheet is narrowing steadily, as expected. Depositors are understandably always looking for a reasonable deal on their short- and long-term investments. Of course, the overall effect is much less than current short-term rates would suggest, and this is due in part to Truist's fairly significant noninterest-bearing deposits – 30.9% of total deposits, a 115 basis point decline sequentially. Truist's average annualized cost of total deposits was 1.51% at the end of the second quarter of 2023, up 39 basis points from the previous quarter (Figure 2). Note that Truist's deposit costs peaked in Q2 2019, just before the Federal Reserve cut rates in Q3. At that time, Truist's deposit costs were about 140 basis points below the Fed Funds Rate, while the gap was about 360 basis points most recently. The bank's cost on short- and long-term borrowing is understandably more in line with market rates.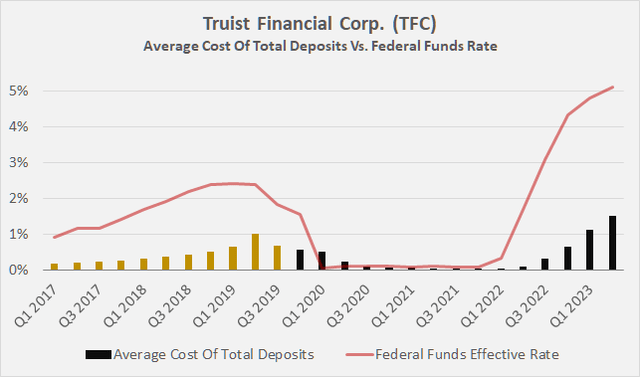 I expect Truist (and other banks) to continue to suffer from the competitive environment related to deposits as long as high-yield alternatives are available. Likewise, higher borrowing cost on bank debt also negatively influences the cost structure. In this context, it seems worth noting that Truist's credit rating was put on review by Moody's on August 7 for a possible downgrade. Should the bank lose its A3 long-term credit rating, a further increase in borrowing costs is to be expected.
At the same time, however, keep in mind that Truist is now accumulating loans at correspondingly higher interest rates, and since the bank is probably not properly hedging its duration risk (otherwise HTM losses would be lower or non-existent, see my second article), it is now securing solid long-term interest income from maturity transformation. When interest rates eventually fall again, the bank will still benefit from a higher net interest margin for some time. In the long run, I think Truist should benefit from solid demographics (Figure 3) – strong economic activity supports demand for loans, and commercial deposits are typically noninterest bearing in nature.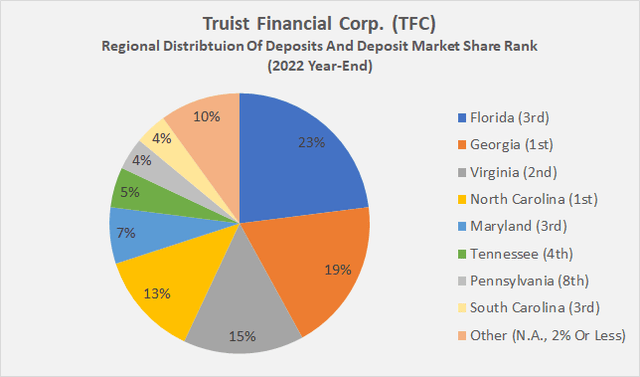 Deposits declined 2.1% sequentially and 5.6% year-over-year (Figure 4). Truist remains one of the largest banks in the U.S. (ranked seventh in terms of consolidated assets as of June 30, 2023), so it would be a stretch to conclude that the decline in deposits was due to concerns that the bank may be undercapitalized or at risk of insolvency (i.e., related to the well-covered HTM issue). According to management, the main reasons for the decline were seasonal tax payments and outflows due to quantitative tightening (see above). Management expects deposit volatility to continue. In response to a related question, CFO Maguire pointed to the high level of interest rate awareness across Truist's clients, indicating continued pressure on deposits, but he expects, albeit cautiously, that volatility will decline as this interest rate cycle reaches its peak.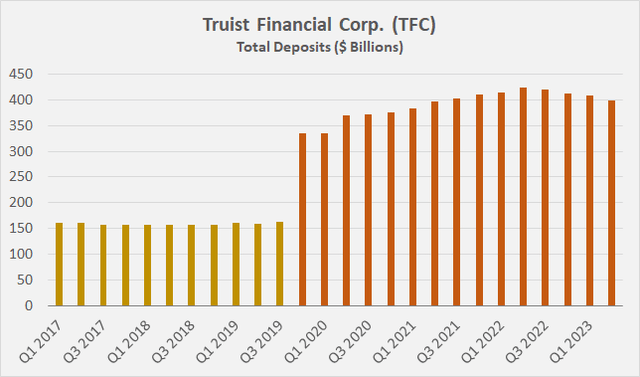 Merger Fantasies Blown? Truist Struggles On The Expense Front
What concerned me more than the (expected) decline in net interest margin due to rising borrowing costs was Truist's revised expense guidance. While management previously anticipated expense growth in line with revenue growth (5-7%), expenses are now expected to come in at the high end of the range. It increasingly looks like the increase in profitability noted in my first article were an artifact of the improved post-pandemic environment and not indicative of an underlying positive trend following the merger. Truist's return on tangible equity and return on equity have declined for two consecutive quarters (Figure 5), and the efficiency ratio continues to rise (Figure 6). Only part of the decline in profitability is attributable to higher borrowing costs. At least, the spread between GAAP and reported efficiency ratios is narrowing.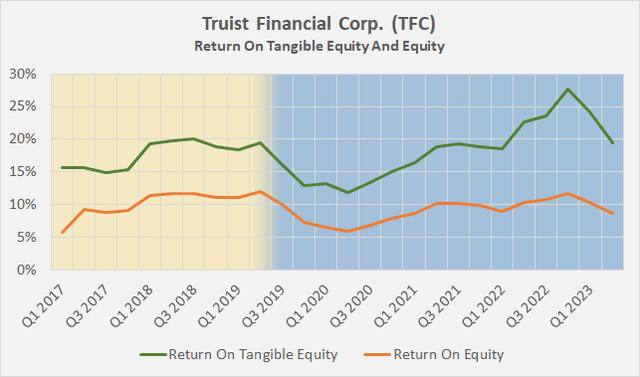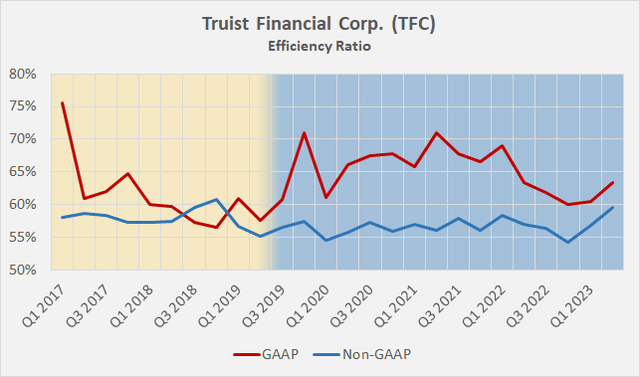 In the Q2 conference call, management indicated that it is actively managing costs even more intensively than before. CFO Maguire pointed to " substantial opportunities to operate more efficiently." Specific examples of where the bank expects to rationalize costs include the previously announced discontinuation of certain market-making activities in the fixed income and trading businesses, and ongoing capacity adjustments in the mortgage business. However, given the high interest rates and the cyclicality of the latter business, such steps seem only logical.
Truist is apparently still digesting the merger, as Maguire also cited consolidation and realignment of various businesses, improved technology spending (e.g., digital lending), staff rationalization, and optimization of operations and contact centers over the next 12 to 18 months.
Having worked for a bank holding company myself, I know that integrating acquired entities can be very complex and time-consuming, and sometimes even involves compromises. And while I concede to management that the merger between BB&T and SunTrust was completed at a very inopportune time, it is still worth noting that Truist is now more than three years old. It is looking more and more like the merged entity will not be able to become one of the best performing super-regional banks in the United States – or at least that unlocking its potential takes another year or two. However, I think that this is more than reflected in Truist's valuation, which is anything but demanding. TFC stock currently trades at a price to tangible book value ratio of 1.65 (Figure 7) or a blended price to earnings multiple of 7.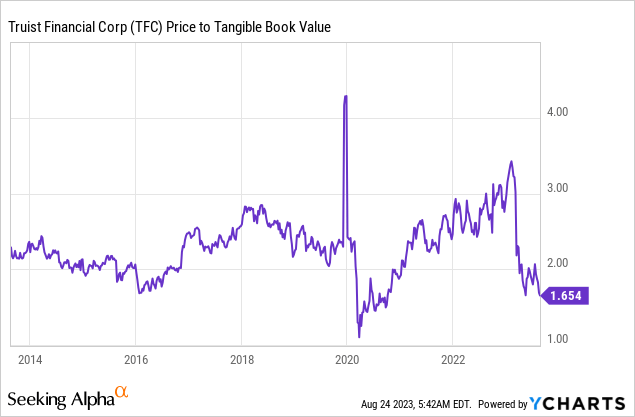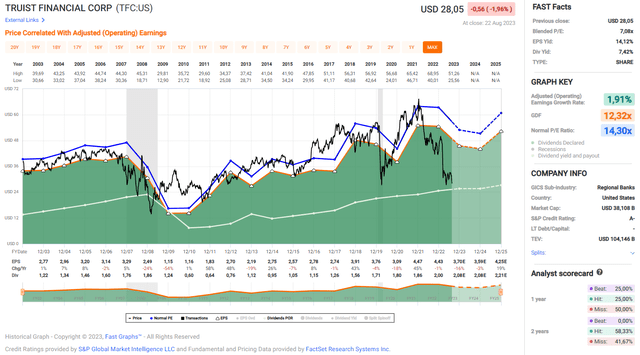 A Look At Truist's Charge-Offs And Commercial Real Estate Portfolio – Cause For Concern?
In the second quarter of 2023, Truist's charge-off rate rose to 0.54%, up 17 basis points from the previous quarter and 32 basis points from a year earlier. I had previously cautioned that investors should not over-interpret the generally low charge-off rates, as I suspected that at least some pandemic-related loan moratoria were still intact, leading to a delay in the onset of defaults. Business loan charge-off rates in the U.S. are still very low, but have been creeping up since Q1 2022. In recent quarters, Truist's charge-offs were slightly higher than the domestic average (Figure 9), and the spread widened significantly in Q2. However, due to the sale of a $5 billion non-core student loan portfolio worth $5 billion, I would not over-interpret this increase. Nevertheless, the spread remains a focus due to increasing charge-offs in Truist's commercial, industrial and commercial real estate (CRE) portfolios.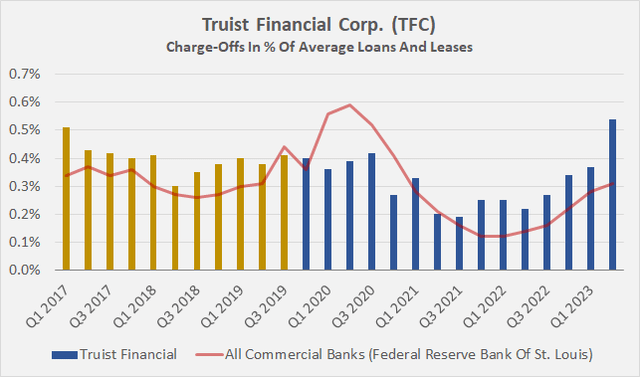 As is well known by now, commercial real estate is one of the more troubled areas in the economy (work-from home trends, short weighted-average debt maturities), so a closer look at Truist's CRE exposure is warranted.
I have noticed on a few occasions that Truist has been labeled as quite risky due to its significant CRE exposure. However, a look at the loan portfolio at the end of Q2 2023 shows that Truist's exposure is quite modest at 8.9% of total loans held for investment (LHFI). According to the bank's Q1 earnings presentation (slide 16), Truist's CRE exposure at the end of 2022 was slightly below the median of its peer group, which includes banks such as Bank of America Corp. (BAC), Citizens Financial Group (CFG), JPMorgan Chase & Co. (JPM), PNC Financial Services Group (PNC), U.S. Bancorp, and Wells Fargo & Company (WFC). It is also worth noting that Truist's CRE exposure has actually declined slightly (-2.2%) since the merger of BB&T and SunTrust, while the peer group median has increased by 21% over the same period.
As hinted earlier, nonperforming loans (NPLs) in the portfolio have increased over 2022 and 2023 (Figure 10, blue). The percentage of NPLs in Truist's office portfolio increased sharply in the second quarter (slide 14, Q2 earnings presentation), rising 3.3% to 5.6%, which is hardly surprising given the persistently high interest rates.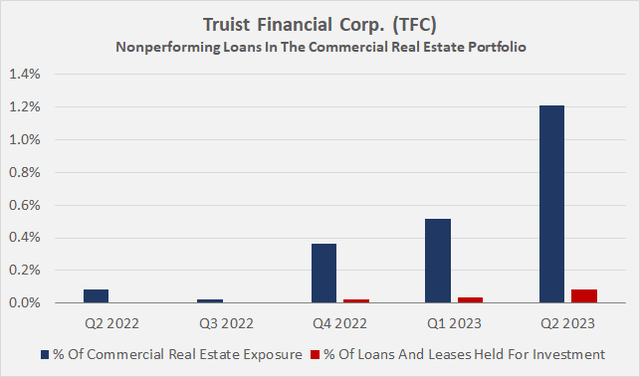 Although recent trends in CRE NPLs, and particularly NPLs in the office portfolio, look worrisome, I would not over-interpret them. The current 1.2% NPL ratio in Truist's CRE portfolio represents only 0.1% of total loans and leases held for investment at the end of Q2 2023 – hardly significant (Figure 10, red). Truist's office segment represented only 1.6% of total LHFI at the end of Q2 2023, compared to 1.9% of the peer group median at the end of 2022 – the bank is clearly not suffering from over-exposure to office properties. It should also be noted that 90% of the exposure is to multi-tenant properties and 65% of the office buildings are Class A (35% are Class B). The rather large increase in the NPL ratio is likely and largely attributable to the fairly high short-term maturities, but with a weighted-average maturity of 3.0 years, the portfolio nonetheless appears to be fairly well insulated in the current interest rate environment. Finally, investors should keep in mind the rather conservative loan-to-value of these exposures, which means there is a significant buffer before a loan becomes significantly impaired.
Of course, if interest rates remain at current levels for longer or continue to rise, investors should expect a further increase in NPLs and ultimately weaker capitalization for Truist. Impairment of CRE loans is a risk, but in my opinion a rather modest one – compared to several smaller regional banks, Truist's CRE exposure is very manageable.
Conclusion
Truist reported rather sobering second quarter results that lead me to conclude that the goal of becoming a super-regional bank with first-class profitability is still a long way off. The bank is likely to experience a significant period of weak revenue growth, while expenses will only gradually come under control. I am not as confident as I was when I wrote my first article on Truist, but I still believe the investment case is valid. At a price to tangible book value of 1.65 and a price to earnings of 7.0, the valuation is not really demanding. Truist may not become super profitable over night, but I believe the company has staying power. I expect the bank to weather the current environment well without having to cut its dividend (current yield 7.3%), thanks largely to its well-diversified loan portfolio and low exposure to commercial real estate. I also believe that most investors do not take into account that Truist has a very solid insurance business, part of which was sold earlier this year at an adjusted 27 times earnings multiple (implied business value $14.8 billion).
In my view, the renewed poor performance of TFC stock is not due to investors' fear of possible realization of unrealized losses in the HTM portfolio or overexposure to CRE, but to profitability concerns. This is best illustrated by the spread between TFC's share price and the bank's preferred shares TFC.PI and TFC.PR (Figure 11). Both indicate that the risk of outright insolvency, which would likely also put severe pressure on preferred shares, has not increased significantly – both continue to trade near their October 2022 levels: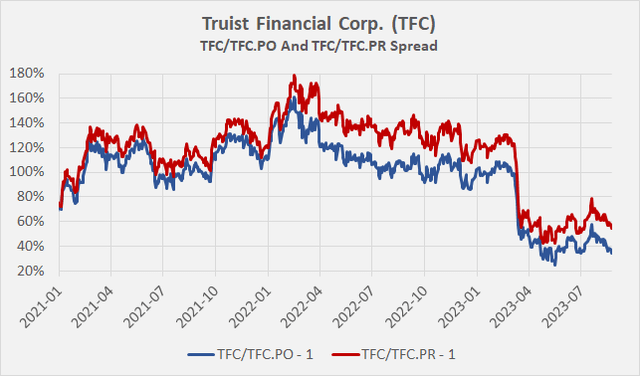 While I acknowledge that it is quite difficult to remain patient given the fact that the merged entity has now been in existence for over three years, that is exactly what investors need to be. I don't believe Truist is at increased risk of insolvency or undercapitalization, and I even doubt that the dividend will have to be cut. Of course, in the event of a severe recession in the U.S., the bank would suspend its distribution to shareholders, but I believe that would be required by regulators in such an event anyway.
I currently hold a modest position in TFC stock and still rate the stock a buy. However, due to the relatively high level of uncertainty, I am sticking to my hard position limit of 0.75% (in terms of portfolio value).
As always, please consider this article only as a first step in your own due diligence. Thank you for taking the time to read my latest article. Whether you agree or disagree with my conclusions, I always welcome your opinion and feedback in the comments below. And if there's anything I should improve or expand on in future articles, drop me a line as well.
Source: seekingalpha.com